LATEST EXHIBITS, deeds and chores:
(not including endless work on Froissart, proofreading, misunderstanding tech stuff, vexatiae [sic], and including some odd bits of humor and pith from authors much older than me that strike my fancy and often make me smile — so you may, too.)
December 31, 2011. A few good jokes to end your year, from Sparks of Laughter, Sixth Annual Compilaton, 1925-1926, published by Stewart Anderson in Newark, N. J. This book is also a good place to find the name of a bunch of defunct newspapers!
Well Broadcasted
Here lie the remains of a radio fan,
Now mourned by his many relations;
He went to a powder mill, smoking his pipe,
And was picked up by twenty-one stations.
Love's Labor Lost
A young playwright brought to Whitford Kane, the character actor, his latest effort.
"I want you to read this for me," he requested. "I have been writing this play the last two years."
Mr. Kane read it.
"Too bad," he muttered, "too bad. All work and no play."
Only Ten Cents Worth
"Hello, old boy. How do you feel?"
"I swallowed a dime. Can you see any change in me?"
December 30, 2011. The rest of the vignettes are online from Belloc's "Miniatures of French History":


The Pilgrimage,
The Triumph of Saladin,
Château Gaillard,
The Conversation of the King,
The Death of St. Louis,
The Templars,
Blanchetaque,
Ville Gagnée,
Louis XI and Charles the Bold,
Two Saturdays,
The Frontier,
The Exile,
The Money-Lender,
The Château,
The Three Places: Fontainebleau, Madrid, Saratoga,
The End of Chateaubriand,
A Soldier of '70, and
The Two Men of the Marne.

In the Chapter above called A Soldier of '70, Belloc does not identify the hero of the piece. With some trouble, and thanks to an American Medical Journal article, I found his identity, and then I could also find out the name of his lover, who is also anonymously referred to. This information, and the article, are included in a Note at the end of Belloc's chapter.
December 25, 2011. Merry Christmas! Peace, please, for more than a day, is my wish.

It's been so warm in Louisville, Kentucky, this week that I saw two mosquitoes! One was dead in my coffee cup.

Tory told me about the funniest short video that she heard at a training session last week. It was played by the instructor, while they waited for some late arrivals, to unmitigated delight (just click out the ads):
A good guy with a great blog, (one of two I read), Matthew Saroff, 40 Years in the Desert, used some great cat pics on his site but they are now not available to the rest of us, because the creators finally figured out how to get paid to put up great cat images with slogans, so look there: http://icanhas.cheezburger.com/
And the text of Joe Miller's Jests, or the Wits Vade-Mecum, of 1739, is online, except for the title page and intro, but the jokes are there, and it is proofed! This period was a tad bawdier than the later Regency and Mark Lemon's Victorian era edition, and these jokes reflect this.

Several are pretty funny, some moderately so, and some not so. Three of the good ones are on p. 41:
147. A Braggadochio chancing, upon an Occasion, to run away full Speed, was asked by one, what was become of that Courage he used so much to talk of, it is got, said he, all into my Heels.
148. Somebody asked my Lord Bacon what he thought of Poets, why, said he, I think them the very best Writers next to those who write in Prose.
149. A Profligate young Nobleman, being in Company with some sober People, desired leave to toast the Devil ; the Gentleman who sat next him, said, he had no Objection to any of his Lordship's Friends.
Also, a poem: Brewster Jones' Christmas, by Charles D. Strode, with a sketch by Percy E. Anderson, from "Cornfield Philosophy," is online.

I truly hope you had a lovely and satisfying day, in every way!
December 23, 2011. Nothing I have to offer can top this great short video that my friend, Jeanie Bartolo, sent me:
What I did discover is a Christmas tradition in Italy. Thanks to Bill Thayer, I can almost read French. With his help, I translated this short article from Le Magasin Pittoresque, 1840, p. 24:
THE BEFANA
In France, gifts are given on New Year's Day; in Rome, on Christmas. The main toy and candy shops, says the author of Un an à Rome, are decorated with garlands and tinsel. In the middle of the goods of every kind that are displayed for sale, an old woman is shown (now and then a man plays this role), in black clothing, with her face daubed with soot; this is the befana (hag, ghost,) who comes down the chimney at the hour when Jesus was born, in order to carry sweets to good children, and to punish bad little ones with a long switch. The letter that the befana is holding is supposed to have been written to her by a child, who had asked for the natale (Christmas) gift. Inside many Italian houses, the befana is seated under the mantel of the chimney.
As you can see, the French don't get any Christmas presents! They have to wait until New Year's Day!

The original French article is also online here: La Befana.

Also online, an article discussing early Italian pottery and its Greek antecedents, with pictures: Early Vases from Apulia, by Stephen B. Luce, in "The Museum Journal," 1919.

And more from "Miniatures of French History," by Hilaire Belloc:

The Torrent,
The Conqueror,
The Serfs,
Jerusalem, and
The Loss of Aquitaine,


Last for the day, Jest 72, from Joe Miller's Jests, or The Wit's Vade-Mecum, 1739, p. 20:
A Gentleman eating some Mutton that was very tough, said, it put him in Mind of an old English Poet: Being asked who that was; Chau---cer, replied he.
This an earlier edition of Mark Lemon's Jest Book, which has been on Elfinspell for years. This joke is one that was not passed on to Lemon's version.
December 19, 2011. Few people know that the Crusaders admired Saladin, who beat them and took back Jerusalem. He is the subject of multiple legends, several are on this site. I was really thrilled to discover that he built a fortress in Cairo, El Kala, and here is a picture taken of it in 1919, for The Museum Journal: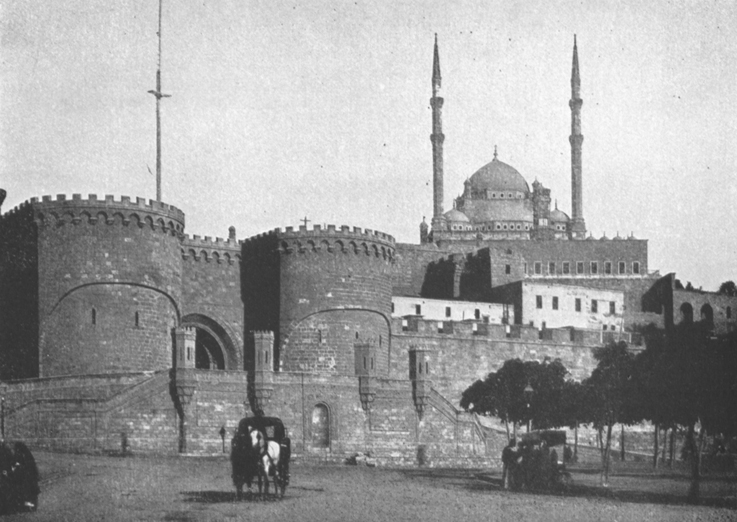 El Kala, Cairo, Egypt, 1919
The short description that accompanies it, is here, in this article: The Director in Egypt. The Director of the Museum at that time was George Byron Gordon, but it does not state that he authored the article or who took the pictures.

Long ago and far away from Pine Mountain, Kentucky, during the eighth century (A.D), Arculph, an ancient Monk from Gaul, missed seeing Cairo, on his vacation, but see what he managed to take in on his journey to the Middle East. He got stranded in England by a storm on the way home, and dictated a description of the highlights of his trip to a monk named Adamnan. This account, plus other historical notices, formed the basis for an early travel book by one of the most famous early British monks, in "The Book of the Holy Places," from The Biographical Writings and Letters of Venerable Bede, translated by J. Giles.

Also online, from this book: "The Life of St. Felix," by Bede, which is his prose translation of the work in verse by Paulinus.

Bede, not only venerable but prolific, also wrote a brief work, called "Of the Seven Wonders of the World," which he compiled from ancient sources for the other people in his monastery.
December 17, 2011. New to the internet, and newly online, the fourth in the series: "A Pennyworth of Queer Epitaphs," by Reverend David Macrae.

Too, The Crowning of the Capetian, by Hilaire Belloc, from Miniatures in French History, is online (and proofed).

And a little early Arabic humor. There have been bad doctors and doctors bad-mouthing doctors throughout history, all countries included. Here is an epigram by a physician of Antioch, written to Abou Alchair Selamu, an Egyptian physician.

It is translated by J. D. Carlyle, from The Literature of Arabia, with Critical and Biographical sketches by Epiphanius Wilson, A. M., Volume IV, of the World's Great Classics, New York: The Colonial Press, 1900; p. 82:
AN EPIGRAM
Whoever has recourse to thee
Can hope for health no more,
He's launched into perdition's sea,
A sea without a shore.

Where'er admisison thou canst gain,
Where'er thy phiz can pierce,
At once the Doctor they retain,
The mourners and the hearse.
George.
And a poetic joke by another early Middle Eastern wit follows this in the same book:
ON A LITTLE MAN WITH A VERY LARGE BEARD
How can thy chin that burden bear?
Is it all gravity to shock?
Is it to make the people stare?
And be thyself a laughing stock?

When I beheld thy little feet
After thy beard obsequious run,
I always fancy that I meet
Some father followed by his son.

A man like thee scarce e'er appeared —
A beard like thine — where shall we find it?
Surely thou cherishest thy beard
In hopes to hide thyself behind it.
Isaac Ben Khalif.
December 15, 2011. Now online, complete, including pictures: Lucien's Wonderland, being a Translation of the 'Vera Historia,' by St J. Basil Wynne Willson, M. A., illustrated by A. Payne Garnett.

Also, The Norman Siege, by Hilaire Belloc, from Miniatures in French History, is online (and proofed).

From A Batch of Smiles, Selected from Many Sources, by Carleton B. Case, 1917, p. 160:
POINT OF VIEW
It was at a reception and the lady who had been reading up on health culture mistook Lawyer Williams for his brother, the doctor.
"Is it better," she asked confidentially, "to lie on the right side or the left?"
"Madam," replied the lawyer, "if one is on the right side it often isn't necessary to lie at all."
December 12, 2011. The Death of Martin, The Baptism of Clovis, The Breaking of Islam, and Roncesvalles, all by Hilaire Belloc, from Miniatures in French History, are online (and proofed).

The bad news about Obama, whose electoral promise of peace was a bunch of caca, (and the biggest betrayal by a politician that can ever be), is epitomized by this little article from The Guardian in the U. K., where the rest of civilized Europe is trying to stop the U. S. from legalizing cluster bombs again! So much for another woman secretary of state proving that female leaders will not make for less violence and lead to a peaceful world. Hilary Clinton and Condaleeza Rice are both reminders that men who kill, torture, and maim as a working policy all had mamas that raised them to think that this was okay. This is on top of the fact that the only reason we are leaving Iraq is because we were kicked out. The U. S. war machine wanted to stay for a lot longer, despite the party promise.

Reading foreign papers about U. S. policy and their investigations on American affairs is always enlightening. It also provides some much-needed balance due to the repressive, obfuscating nature of the American press.

And lest we forget, 50% of bullies are women. This is much higher in healthcare, including hospitals, where most of the employers are women, many of them mean as snakes. Bullying in hospitals is a huge problem and it certainly affects patient care.
December 8, 2011. The Fall of the Veneti, by Hilaire Belloc, from Miniatures in French History, is online (and proofed).

Also online, a great essay, tongue-in-cheek from the git-go, and one of the best in the book Cornfield Philosopy, by C. D. Strode: How To Acquire Riches, Part I.

I learned this year, that 100 to 200 years ago, it was common for complete strangers to share beds in frontier inns and sleeping berths in railroad cars. Abraham Lincoln and others did it several times, in the 1800's. For three examples, see Kicked Out of Bed, Stretched the Truth, and Abe in the Pullman.

Here is another example a half a century later, illustrating the persistence of the custom, from Told on the Way, Snappy Short Stories heard aboard Trains, Steamboats, and in Hotel Lounges, by Pop Peregrinet on his First European Trip, Chicago: Drift Publishing Company, 1913; p. 15 sqq:
On reaching the opening of the smoking-room, a glance revealed the place pretty well filled. Though one could hardly see so thick was the bluish smoke, I found a vacant space on one of the upholstered seats and made a dive for it.
Despite the roar and rattle of the speeding cars, I received the impression the occupants were holding a story telling session.
As my eyes became accustomed to the fog, and my ears to the noise of the train, I knew the little fat man away over in the corner, was coming to bat — it was his innings.
"Talking of hospitality!" he shouted.
Members of the group looked at each other to ascertain who had mentioned the word; then they concentrated their gaze once more on the plump speaker by way of encouragement.
"Well, speaking of hospitality," resumed the roly poly, "I've got the real dope on that subject. With my partner, I was traveling across country, away down in North Carolina, last year, and we lost our way on what appeared to be a deserted road. Night had come on and we entertained reasonable doubts about getting shelter. Suddenly we saw a light in the distance. Driving on we found the dim rays emanated from a dilapidated shack. We yelled; a man came out. We asked him for lodgings for the night.
"After surveying us pretty hard, he drawled, 'Well, I reckon if you can stand it, I kin.'
"The shanty had two uninviting rooms; we had no alternative. The place literally swarmed with children.
"There were five of them, ranging from four to twelve years of age, with only one bed in sight. My partner, Jim, and I wondered what would become of us?
"After supper, the old lady put the two youngest to bed. When they were asleep she took them out, laid them on the floor in the corner, and put the next two to bed. She followed this system until all the children were slumbering peacefully.
"Then the old folks went to the other room, telling us we could retire when we saw fit.
"Being about all in from honest fatigue, we were soon deep in the mystery of dreamland.
"Well, gentlemen, what do you think? The next morning when Jim and I returned to consciousness, we found ourselves lying over in the corner on the floor with the children: the man and his wife had the bed."
The salesman's story evoked a hearty laugh, and I looked around to see if another yarn threatened.
December 6, 2011. The Founding of Marseilles, by Hilaire Belloc, from Miniatures in French History, is online (and proofed).

This book is a retelling of major events in French history. Belloc was born in France, but moved to England as a child. He was also an avid sailor, and that fondness and experience colors these brief vignettes. The stories are simply done and give a popular version of their subjects. His writing style is idiosyncratic in these stories, which is a little distracting and not particularly charming. However, it is an introduction to the history of France and its people, and Americans know little French history. It is important to remember that much of the antipathy towards Frenchman is unfair, based on ignorance and biased reports — big surprise. Often they have been, and continue to be, more civilized and ethical than many Americans. Knowing their history is one way to cultivate tolerance.

Also online and proofread — Chapter IV: Intellectual Interests of the Latin Fathers, (although all the page headings for this chapter have The Patristic Mind) from The Mediaeval Mind, by Henry Osborn Taylor.

From Ford Smiles, gathered by Carleton B. Case, p. 62:
CONUNDRUM
What is the difference between a Ford touring car and a tramp?
One has four seats and the other has sore feets.
November 24, 2011. I found an interesting book, called Cornfield Philosophy, by Charles D. Strode, published in 1902 by a small Chicago press. According to The Wood-worker, Volume 21, he was a long-time "editor of the Chicago Hardwood Record, and one of the most entertaining writers the American lumber press has ever known." He also co-owned/published the Illinois Courier for several years. It appears that this book is a collection of some of the editorials he had written earlier. Here is what he has to say for today's holiday: Thoughts on Thanksgiving. He has flashes of wit in some of his essays and some are very funny throughout. This particular one is not all that funny, but there are a few apt phrases. I wonder what he would write today?

Funnier, and fodder for Abraham Lincoln later, is this letter written by James Howel, a Welshman, in 1620, from Spain, during his travels. It is addressed to Captain Thomas Potter. He recounts the following anecdote he was told, (with the original spelling and italicized portions):
I am now in Barcelona; but the next week I intend to go on through your town of Valencia to Alicant, and thence you shall be sure to hear from me further, for I make account to Winter there. The Duke of Ossuna pass'd by here lately, and having got leave of Grace to release some slaves, he went aboard the Cape-Gallic, and passing through the Churma of slaves, he ask'd divers of them what their offences were, evry one excus'd himself, one saying, that he was put in out of malice, another by bribery of the Judge, but all of them unjustly; amongst the rest, ther was one sturdy little black man, and the Duke asking him what he was in for: Sir, said he, I cannot deny I am justly put in here, for I wanted money, and so took a Purse hard by Tarragon to keep me from starving : The Duke with a little staff he had in his hand, gave him two or three blowes upon the shoulder, saying, You Rogue, what do you do amongst so many honest innocent men? get you gone out of their company ; so he was freed, and the rest remain'd still in status quo primus, to tugg at the Oar.
Modernized and Americanized, the same story has been re-clothed in Wit and Humor of Abraham Lincoln, by Carleton B. Case, on this site. Here is Abe's version of it after 300 years, which begins on page 95:
HE'D RUIN ALL THE OTHER CONVICTS
One of the droll stories brought into play by the President as an ally in support of his contention, proved most effective. Politics was rife among the generals of the Union Army, and there was more "wire-pulling" to prevent the advancement of fellow commanders than the laying of plans to defeat the Confederates in battle.
However, when it so happened that the name of a particularly unpopular general was sent to the Senate for confirmation, the protest against his promotion was almost unanimous. The nomination didn't seem to please anyone. Generals who were enemies before conferred together for the purpose of bringing every possible influence to bear upon the Senate and securing the rejection of the hated leader's name. The President was surprised. He had never known such unanimity before.
"You remind me," said the President to a delegation of officers which called upon him one day to present a fresh protest to him regarding the nomination, "of a visit a certain Governor paid to the Penitentiary of his State. It had been announced that the Governor would hear the story of every inmate of the institution, and was prepared to rectify, either by commutation or pardon, any wrongs that had been done to any prisoner.
"One by one the convicts appeared before His Excellency, and each one maintained that he was an innocent man, who had been sent to prison because the people didn't like him, or his friends and relatives wanted his property, or he was not popular, etc., etc. The last prisoner to appear was an individual who was not at all prepossessing. His face was against him; his eyes were shifty; he didn't have the appearance of an honest man, and he didn't act like one.
" 'Well,' asked he Governor, impatiently, 'I suppose you're innocent like the rest of these fellows?'
" 'No, Governor,' was the unexpected answer; 'I was guilty of the crime they charged against me, and I got just what I deserved.'
"When he had recovered from his astonishment, the Governor, looking the fellow square in the face, remarked with emphasis; 'I'll have to pardon you, because I don't want to leave so bad a man as you are in the company of such innocent sufferers as I have discovered your fellow-convicts to be. You might corrupt them and teach them wicked tricks. As soon as I get back to the capital, I'll have the papers made out.'
"You gentlemen," continued the President, "ought to be glad that so bad a man is going to have his promotion so you will not be contaminated by associating with him."
November 17, 2011. From Ford Smiles, gathered by Carleton B. Case, p. 35:
FLIVVER SAUSAGE NOW
'Mr. Cleaver, how do you account for my finding a bit of rubber tire in the bologna I bought of you last week?'
'Madam, that only goes to show that the Ford is replacing the horse everywhere.'
November 16, 2011. Finally proofread — Chapter III: Greek Philosophy as the Antecedent of the Patristic Apprehension of Fact, from The Mediaeval Mind, by Henry Osborn Taylor.
November 15, 2011. The rest of the Americanized version of The Teaching of Epictetus, by T. R. Rolleston. The binding of this probably pirated text has The Teachings of Epictetus. etc., but the Title Page has "Teaching." Don't ask me why, I haven't a clue.

And for your delectation, and an example of intrinsic evidence dating a piece, an anonymous poem from some time before 1879, but not much:
'THE GRAVE-DIGGER.'
'Old man! old man! for whom digg'st thou this
grave?'
I ask'd as I walk'd along;
For I saw in the heart of London streets
A dark and a busy throng.


'Twas a strange wild deed! — but a wilder wish
Of the parted soul, to lie
'Midst the troubled number of living men,
Who would pass him idly by!


So I said, 'Old man! for whom digg'st thou this
grave,
In the heart of London town?'
And the deep-toned voice of the digger replied,
'We 're laying a gas-pipe down!'
Ohmigosh! A Roman numeral joke! From Ford Smiles, gathered by Carleton B. Case, p. 42:
CONUNDRUM
Since a two-wheeled car is a bicycle, a three-wheeled car a tricycle, and a four-wheeled car is a Four-d, what would you call a five-wheeled one?
A V-hicle, of course.
That joke is better in print, and not even then if you have forgotten all about Roman numerals.
November 8, 2011. From the Accidental-Humor File: Bill T. has been tickled to write me and tell me that my link to the Wit and Humor of Abraham Lincoln was wrong, and sent the unsuspecting viewer to the article on gargoyles! I was tempted not to change it — it is funny. But I did.

Sadly, some things never change that certainly should be, morally, ethically and to truly represent the desires and hopes and expectations of most Americans. Witness this popular joke from Sparks of Laughter, Sixth Annual Compilation, Newark: Stewart Anderson, 1925; p. 24:
What He Learned
"Damn," snarled the General, "why can't you be more careful? You should have addressed this letter to the Intelligence Office and you've addressed it to the Intelligent Officer. Don't you know there is no such officer?"
November 4, 2011. Most importantly, here is a modern limerick, which summarizes ancient Rome, by Bill Thayer, who ought to know:
There was a young man from Ghent
Who asked why the Romans went —
Christianity, lead, bad money, pollution,
The army, barbarians, gay sex, revolution —
But mostly the sources show they were bent.
His website host has been giving him fits, and his site is not online this evening. Hopefully, it will be up again soon.
Online is the Introduction to The Teaching of Epictetus, by T. R. Rolleston. He gives an overview of the schools of philosopy in antiquity. A ancient Epicurean is not what you think!

Also online is Rolleston's translation of the Hymn to Zeus, by Cleanthes

This is the second translation of that Prayer, on this site, the first translation is by Palmer. Neither one is particularly inspiring or very interesting. For a piece of work that has has survived about 2300 years, one would surely hope that soon it might have a translator that could do it more honor.
October 25, 2011. Another funny book by Cobb is online: One Third Off, Some Thoughts on Deflation, by Irwin S. Cobb.
October 20, 2011. Now online: Wit and Humor of Abraham Lincoln, by Carleton B. Case.

Again, from Good Toasts and Funny Stories,, by Arthur LeRoy Kaser, Minneapolis: T. S. Denison & Company; 1923, p. 72:
DOG-GONE IT.
Here's to little Fido,
The clever little pup.
He can stand on his hind legs
When you hold the front ones up.
October 18, 2011. At last, completed! Proofed (twice and sometimes thrice)! With pictures! Antiquities and Curiosities of the Church, edited by William Andrews.

The last chapters, not previously announced are:

Pulpits, by the Reverend George S. Tyack,

Church Windows, also by Reverend George S. Tyack ,

Alms-Boxes and Alms Dishes, by Thomas Frost,

Old Collecting Boxes, by H. Syer Cuming,

Gargoyles, by T. Tindall Wildridge,

Curious Vanes, by William Andrews,

Jack of the Clock-House, by William Andrews,

Games in Churchyards, by England Howelett,

Circular Churchyards, by Reverend Elias Owen , and

Yew Trees in Churchyards, by T. N. Brushfield.



In addition, newly online: a short excerpt, with a few pithy pits of wit: Garden Ethics, by Charles Dudley Warner,

The last thing for today is again from Good Toasts and Funny Stories, by Arthur LeRoy Kaser, Minneapolis: T. S. Denison & Company; 1923, p. 140:
A GOOD EXCUSE.
While climbing a fence on his way to school, little Johnnie tore his pants and had to return home. Next day his mother sent the following excuse to his teacher:
DEAR MISS BROWN:
Please excuse Johnnie for not being at school yesterday. he tore his pants. By doing the same you will greatly oblige.
HIS MOTHER.
October 13, 2011. From Good Toasts and Funny Stories,, by Arthur LeRoy Kaser, Minneapolis: T. S. Denison & Company; 1923, p. 105:
IT MISSED FIRE.*
The students of a certain college grew so wild and reckless after school hours that the dean thought it about time to reprove them for their conduct. He lectured for some time on morality, much to the humility of the students. Dramatically he finished his talk with: "My young friends, the floors of Hell are paved with champagne, automobiles, chorus girls ——"
Then a voice from the rear of the hall shouted: "O Death, where is thy sting?"
In case you were wondering, as was I, the quote is 1 Corinthians 15:55, from the King James Bible, Cambridge Edition: "O death, where is thy sting? O grave, where is thy victory?"
October 7, 2011. A groaner for you. I almost didn't get it, at first. I had to re-read it. The Dying Gag, by James L. Ford. Torey got me this set of books, by the way.
September 25, 2011. Get down and buggy in Kentucky! This state has the best bugs. Here's two that saw the light and came to visit in Louisville, one evening in August (pictures by Terra, with an i-phone, with thanks):
Copyright © 2011 by Terra.
This moth sure looks like a stealth bomber, with eyes!
Copyright © 2011 by Terra.
This bug looks just like a curled up dead leaf. The only hint that it was insecty at all was because it was on the brick wall five feet up without a tree in the neighborhood.
September 22, 2011. Good news! U. S. Rep. Carolyn McCarthy (Dem.-N. Y.) is introducing a bill to ban corporal punishment in schools. If a state continues to do so, they will lose federal funding. So express your support to your own Representative. 19 states still flog children. Remember, if a state thinks corporal punishment at school is okay for children (until they pay tuition and attend school voluntarily at 18), then even the very youngest children, as well as the disabled ones, are subject to being walloped. See the press release here.

Here are some one-liners by another Carolyn, from The Wit and Humor of America, Volume III, edited by Marshall P. Wilder, 1907, pp. 424:
MAXIOMS
BY CAROLYN WELLS
Reward is its own virtue.
The wages of sin is alimony.
Money makes the mayor to go.
A penny saved spoils the broth.
Of two evils, choose the prettier.
There's no fool like an old maid.
Make love while the moon shines.
Where there's a won't there's a way.
Nonsense makes the heart grow fonder.
A word to the wise is a dangerous thing.
A living gale is better than a dead calm.
A fool and his money corrupt good manners.
A word in the hand is worth two in the ear.
A man is known by the love-letters he keeps.
A guilty conscience is the mother of invention.
Whosoever thy hands find to do, do with thy might.
It's a wise child who knows less than his own father.
Never put off till to-morrow what you can wear to-night.
He who loves and runs away, may live to love another day.
September 15, 2011. Destiny, my very favorite niece, is studying Colonial America this week. My contribution to further that knowledge (and my own), is this line of verse by a cantankerous old misogynist, Nathaniel Ward, the first American comedian, according to Carl Holliday, in Colonial Wit and Humor, Philadelphia & London: J. P. Lippincott Company, 1916. Ward was a Puritan, who settled in Aggawam, Massachusetts. This is now Ipswich. On page 23, there are a few lines of Ward's poetry:
The world is full of care, much like unto a bubble,
Women and care, and care and Women,
And Women and care and trouble.
Here's something a little later in time, closer to the American Revolution. It is from the Cyclopædia of Wit and Humor, edited by William F. Burton, New York: D. Appleton and Co., 1881, about Mather Byles, a preacher (Doctor of Divinity) of Boston, who lived from 1706 to 1788. On pages 4-5:
In the year 1780 a very dark day occurred, which was long remembered as "the dark day." A lady neighbor sent her son to the doctor to know if he could tell her the cause of the obscurity. "My dear," was the answer to the messenger, "give my compliments to your mother, and tell her that I am as much in the dark as she is."
Now it happens that May 19th, "the dark day" of 1780, made history. It became dark around noon over much of northeastern North America, and people had to use candles to see. The current theory is that it was due to smoke from forest fires, which was discovered by observers at the time. Bill Thayer has found a detailed first-hand account: See An Account of a Very Uncommon Darkness in the States of New-England, May 19, 1780., from The Memoirs of the American Academy of Arts and Sciences, Vol. 1 (1783), pp 234‑246.
From the same section, about Mather Byles, it states:
When brought before his judges, at the time of his trial [in Boston, in 1777, for Tory sentiments], they requested him to sit down and warm himself. "Gentlemen," was the reply, "when I came among you, I expected persecution, but I could not think you would have offered me the fire so suddenly."
Also online, finally, is the rest of Slams of Life, with Malice for All And Charity Towards None Assembled in Rhyme by J. P. McEvoy, with black and white interruptions by Frank King. It is the first book of a very famous mid-1900's author. He ended up as one of the contributors and later an editor for Readers Digest, and he did some comic writing for the Ziegfried Follies, among many more things. This is a very funny book. McEvoy makes up great new words, like "slitherine" for his toddler daughter.
September 13, 2011. In case you were wondering, Alaska as "The Land of the Midnight Sun," is sort of false advertising. In the Inside Passage, the sun may be out somewhere, but you won't see it. Juneau, Alaska, is the northernmost rain forest in the hemisphere. Therefore clouds and rain are more likely than not. It is also not as cold as much of the lower 48 in the winter. It is also not very hot in the summer. The views on the Inside Passage are pretty spectacular, which goes a long way to console a body when the sun isn't shining.
I also visited Barrow, Alaska, in the Arctic Circle in August, once. Yep, the sun was up all the time, but it was covered by haze. The bottom line? I have spent almost three weeks in Alaska and seen the blue sky for a total of about an hour and a half!
Here's a funny story from an old book on Alaska, Arctic Village, by Robert Marshall, 1933, talking about the Goldrush Days in the Yukon, near the town of Wiseman, in the Arctic Circle:
The diggings on Myrtle Creek and Emma Creek were only a few miles from Coldfoot, so the men who were mining there paid frequent visits to town in quest of hilarity. Twice a year, in the spring and fall, there was a general reunion when the men came down from the more distant creeks to haul back their summer's or winter's supplies. In the normal celebrating which ensued some of the fellows became pretty wild. Fred Swift, one of the worst dare-devils, tried one night to enter the house of Lydia, fairest of all the prostitutes. Lydia was having a brief spasm of living steadily with another miner at the time, and she did not want to let Swift in. She locked the door, and Swift tried to break it down. He employed such energy that she became frightened, and blazed away with her revolver, right through the door. The shot missed its mark, and Swift said in an ordinary, conversational voice: "A little more to the right, Lydia." Then he jumped to the left. Lydia fired according to his new direction and Swift said calmly: "A little more to the left, Lydia," and jumped to the right. After repeating this several times, he tired of it, and built a bonfire on her front porch. Finally, in frantic desperation at the thought of losing her house, Lydia allowed him to enter.
Now online, and improved slightly over the original, is A Dialogue in Hades, A Parallel of Military Errors of which the French and English were guilty, during the Campaign of 1759,in Canada,attributed to Chevalier Johnstone.
I have translated the burial notice of General Montcalm from the French and Bill Thayer tells a joke about it.

At last, the last of Froissart is typed and online! Not counting final proofing, sans pictures, index and table of contents, but what the hey! The second volume alone has 710 pages in very small print, not including the Index, so it was not some easy walk in the slough to do. The last 12 chapters: Chapters 100-110, and Chapters 110-122, from Book IV, of Sir John Froissart's Chronicles of England, France and Spain and the Surrounding Countries.


July 18, 2011. After an unrefreshing, misdirected pause, new to the internet, and newly online, the third in the series: "A Pennyworth of Parodies," by Reverend David Macrae.

It has some funny stuff in it!
February 23, 2011. Eusebius Pamphilus: His Ten Books of Ecclesiastical History, Faithfully Translated and Abridg'd from the Original, by Samuel Parker, Gent; 1703 is online, complete and proofed.

Also, 20 more chapters of Froissart are now online, (not proofed): Chapters 80-89, and Chapters 90-99, from Book IV, of Sir John Froissart's Chronicles of England, France and Spain and the Surrounding Countries.
January 19, 2011. In the midst of suicidal Shepherds and their Flocks, Bullies, and the colluding bystanders of all faiths, including Eusebius himself, from The Secular Review, A Journal of Agnosticism, edited by Saladin; Volume XVIII, No. 1; London: January 2, 1886, p.8:
An Old Proverb.
Pouting, my darling, because it rains,
And flowers droop and the rain is falling,
And drops are blurring the window-panes,
And a moaning wind through the lane is calling!
Crying and wishing the sky was clear,
And roses again on the lattice twining!
Ah! well, remember, my foolish dear,
"'Tis easy to laugh when the sun is shining!"


When the world is bright and fair and gay,
And glad birds sing in the fair June weather,
And summer is gathering, night and day,
Her golden chalice of sweets together;
When blue seas answer the sky above,
And bright stars follow the day's declining,
Why, then, 'tis no merit to smile, my love —
"'Tis easy to laugh when the sun is shining !"


But this is the time the heart to test,
When winter is here and storms are howling,
And the earth, from under her frozen vest,
Looks at the sad sky mute and scowling.
The brave little spirit should rise to meet
The season's gloom and the day's repining;
And this is the time to be glad, for, sweet,
"'Tis easy to laugh when the sun is shining!"
Anon.

January 18, 2011. Time does fly! I have not been shilly-shallying. A little Christmas present to myself is up, and the lion's share (the first 7 books, at least) of it is even proofed! Eusebius Pamphilus: His Ten Books of Ecclesiastical History, Faithfully Translated and Abridg'd from the Original, by Samuel Parker, Gent; 1703.

And the Euphemism of the Day, à la française:

Les parties nobles — In one dictionary it states its meaning as "the genitals." In a more skittish 1930 dictionary, the phrase listed is les parties nobles de l'homme, and it is translated as "the noble side of man." In another dictionary (modern and humorless), this particular phrase, short or long, is conspicuously absent.
Archives
To see 7 years worth of this page, with some great old jokes and limericks, and practically no diatribes, go to the Archived New Stuff Pages.
Copyright © 2004-2012 by Elfinspell