=============
From Antiquities and Curiosities of the Church, edited by William Andrews; London : William Andrews & Co., 1897; pp. 256-278.
[256]
ANTIQUITIES AND CURIOSITIES OF THE CHURCH.

________________
Yew Trees in Churchyards.
BY T. N. BRUSHFIELD, M.D.
WE are so accustomed to the presence of a yew tree in a churchyard, "looking like a sentinel keeping watch over the graves of our forefathers," that we are apt to regard it as a necessary occupant. Its position in consecrated ground is due neither to statutory enactment or to canon law. Whatever may have been the original circumstances that led to its being planted there, and for which, as we shall presently see, many varied reasons have been assigned, the law of custom has sanctioned and perpetuated. Although so common in rural burying grounds, yews are generally absent from those in large towns and cities, where, if ever they found a place at an early period, they soon had to give way, partly owing to the rapid elevation of the ground owing to the great number of burials and partly to the burying area being limited in extent, 257 necessitating their removal to provide space for additional interments. Again, it was remarked by the celebrated Rev. Gilbert White, "that while in the south of England every churchyard almost has its tree; in the north, we understand, few are to be found."
There is generally only one specimen in a churchyard, occasionally two, but in some of Somersetshire this is exceeded, e.g., at Portbury there are four, and at West Harptree ten.
The customary position of a single tree is adjacent to the principal entrance to the church, and as that is on the south side, the tree is placed on the west of the pathway leading to it, the open-air cross being eastwards, so that the worshipper passed between the two on his way to the edifice. At Axminster, where there is one of the finest and oldest yew trees in Devonshire, it is placed on the north side of the church, where the principal entrance is situated. There is a smaller one on the south side, planted in 1792, and is thus noticed in the parish accounts: —
"Paid for a yew tree and carriage from Blandford 10s. 6d.
For planting and liquor 3s. 6d."
Although there can be no doubt of the great age of the larger number of yews still preserved 258 within the precincts of the church, any statement as to the time that has elapsed since they were planted must be received with the greatest caution. Apart from any historical facts (or even tradition) on record, the dimensions of the girth of the whole will, to a certain extent, guide us in forming an opinion, as the greater it is, the older the tree should be. But a comparison of two trees possessing similar measurements may be fallacious, as the rate of growth varies considerably in different places, according to the nature and depth of the soil, protection from winds, etc. Moreover a cultivated specimen grows at a more rapid rate than a wild one. Even "accurate comparative measurements made on a uniform plan," as suggested by the author of the article on the Yew, in the last edition of the "Encyclopædia Britannica," would scarcely tide over the difficulty. Although the annual rings of growth in all Exogenous trees should point out the age, in a slow-growing tree like the yew, the rings are apt to be confused and to run into each other. The chance of testing the age of a perfect and full-grown tree by this method is, however, for obvious reasons, a very remote one.
One of the oldest trees known, of which some 259 remains still exist, was described by Pennant in 1776, as "a wonderful yew tree in the churchyard of Fortingal (Perthshire), whose ruins measure fifty-six feet in circumference;" of this an illustration is given in J. G. Strutt's "Sylva Britannica." De Candolle reckoned this specimen to be 2,500 years old, but a correspondent of Notes and Queries (5th series, v., 376), from the examination of a much younger tree at Guilsfield Mongomeryshire, "the age of which is known," concluded it made "an average growth of four feet in one hundred years," and from this he inferred the age of the Fortingal one to be about 1,400 years. In the same periodical Mr. J. R. Jackson, of the Museum, Kew, states that "perhaps the largest on record is that which once stood at Hensor (Hedsor), in Buckinghamshire, the circumference of which has been given at eighty-one feet." This is probably an error, or the measurement may have been made at the expanded base of the tree (and this applies also to the Fortingal example). According to Lyson's "Buckinghamshire," 578, the one in Hedsor churchyard in 1806, had a circumference of 27 ft.
Dr. Hunter (Notes to Evelyn's "Silva" [1812], I., 264) describes six remarkable yews growing 260 on the hill above Fountains Abbey, near Ripon, whose girth measurements in 1770, ranged from 13½ ft. to 26½ ft. "Under these very trees a number of monks resided until they built the monastery of Fountains in 1133." He does not give any authority for this statement,, but if correct, the trees must have been at that state many years old to have afforded the required shelter.
This tree frequently adorned the courts of religious houses. Whitaker mentions that "the stump of a vast yew tree" formerly occupied the centre of the cloister quadrangle of Bolton Abbey ("History of Craven" [1805], 357). Occupying a similar position in Mucress Abbey, Ireland, is "a magnificent yew tree, which covers, as a roof, the whole area" (Hall's "Ireland," I., 220). About the year 1540, Leland records the following at Stratfleur Abbey, Cardiganshire: "The Cœmiteri wherein the Cunteri about doth buri is veri large, and meanely waullid with Stoone. In it be xxxix. great Hue trees."
[263]
From a photo by G. Hingley.] [Cullercoats.


[26]
[blank] Yew tree, Darley Churchyard.
The celebrated yew in Darley churchyard, Derbyshire, is claimed by Dr. Cox, "not only as by far the finest specimen extant in England, but even in the United Kingdom." Its girth at four 261 feet from the ground was, in 1876, 31 ft. 8 in. While common report asserts it to be 1,000 years old, Mr. Jackson states "its age is estimated at about 2,000 years;" another authority (Mr. Bowman), at about 2,500 years; while Mr. Greaves on comparing with the growth of others whose age was known, believes it does not exceed 700 years. The latter may be under-estimated, owing to the fallacy of noticing a comparison between the growth of trees of very different ages; while the former, based on the calculations of De Candolle, is probably over-estimated. The age assigned by common report may be the nearest to the truth after all. (The whole subject is treated at length in Cox's "Derbyshire Churches," II., 170-2; and "Trans. Derby Archæol. Soc.," II., 101-124).
The picture of the yew tree in Darley churchyard is from a photograph taken July 11th, 1896, by Mr. G. Hingley, of Cullercoats, Northumberland, and kindly presented to us for this volume.
The following are some of the more remarkable trees recently existing or yet remaining in England, but the measurements given, in several instances, are those of the greatest girth of any 262 one portion of the trunk, the most trustworthy being those recording the height from the ground. One at Tisbury, Wiltshire, is stated to be 37 ft., and another at Llanfoist, 32 ft. At Kenne, Devonshire, a specimen is reported to be 33 ft. 2 in. in girth at one and a half feet from the bottom. The circumference of one at Leeds, Kent, is set down as 31 ft. 2 in.; but at 7 ft. from the ground, away from the portion where the root branches are given off, the measurement is 28 ft. 8 in.
One at Ankerwyke, Buckinghamshire, of interest for being near the place where Magna Charta is said to have been signed; the girth at 6 ft. from the ground was, in 1818, 30 ft. 5 in. A yew at Crowhurst, Sussex, sill in existence, is mentioned by Evelyn as being 30 ft. in circumference; while the hollow trunk of one at Hardham, in the same county, with a girth, in 1839, of 23 ft., was "capable of containing twenty-seven people." On the south side of Cudham Church, Kent, "are two very large old yew trees, of about 30 ft. in circumference; one of them with a door would form a good gypsy's cabin" (Gent.'s Mag. [1804], 832). At the latter end of last century, the Rev. G. White reported the Selborne 265 tree to be "23 ft. in the girth;" while in his Memoir, written about one hundred years later, it was reported to have increased to 25 ft. In a paper by Mr. Pettigrew "On the prevalence of Yew Trees in the Churchyards of Somersetshire" ("Trans. Brit. Arch. Assoc." XIII., 146-7), he cited a large number of examples in that county. The larger of two at west Monckton, measured nearly 24 ft. in circumference, within a foot of the ground. "At Staple-Fitz-Paine, a very fine yew tree has a pair of stocks placed under it." Of several at West Harptree "the diameter [sic] of the largest is at the bottom thirty-six feet." It is probable that in former times they were often the recognised place for meetings to be held, and "tradition asserts that the famous old yew tree in Totteridge churchyard, now a mere shell, was the gathering place of the gemot for the northern division of the hundred of Goare" (Lloyd's "History of Highgate," 21).
Formerly, when churchyards were more frequented, especially for recreation, seats were fixed round the trunk of the tree. Thus at East Budleigh, Devonshire, there is an item in the churchwardens' accounts of 1686, for "putting up ye seat about ye you tree," and another in 1726, 266 "paid fore seeats round the V tree." Other available trees were also fitted with them; thus at Youlgreave, Derbyshire, in 1741, sixpence was paid "for fitting ye bench about ye Elm tree." At Drayton, Somerset, stone seats surround the two yews; and in 1781, one of similar material adjoined the tree in Gawsworth Churchyard, Cheshire.
The yew is diœcious, the male and female flowers occupying separate trees. The Rev. G. White observed, that the male trees grew to a larger size than the female ones, and that "most of the yew-trees in the churchyards" in the neighbourhood of Selborne, "are males . . . this (he adds) must have been a matter of mere accident."
Of the wonderful vitality of this tree, under adverse circumstances, we have a notable example in the one in Buckland Churchyard, near Dover. About the year 1770, it had been split and shattered by lightning, which had, at the same time, demolished the church steeple near it. At a later date, large boughs were lopped off, and it was much mutilated by boys; nevertheless, in 1880, in order to permit of the church being enlarged, it was removed bodily fifty-six feet westwards. 267 Several years later, the vicar reported it to have taken a new lease of life, and never to have "made longer shoots or looked better." An excellent woodcut and description of the tree will be found in London's Magazine of Natural History, VI. (1833) 47-51. Another example has been made the subject of a poem entitled, "The Decayed but Reviving Churchyard Yew," by the Rev. J. G. Copleston, of Offwell, Devon (1832, pp. 19, with three illustrations), who had been instrumental in preserving it during some church extensions, and through whose unremitting attention it took a new lease of life.
The yew is indigenous in Britain, and is yet to be found growing wild in some parts, e.g., in the New Forest, Hants, in Westmoreland, and on the chalk downs of Surrey. Under date 1621, J. Goodyer (in Gerard's "Herbal" [1636], 1370), reported, "in Hampshire there is a good plentie of them growing wilde on the chalkie hills." At one time it must have been a very common occupant of woodlands and moors. "The roots of the yew, frequently of great proportions, are grubbed up while clearing the woods of Hornsey." (Lloyd's "Highgate," 72). According to Mr. Pettigrew, at Mark, Somerset, many "of considerable 268 magnitude have been dug up in the moors, at a depth of about six feet."
Formerly they adorned large parks to a much greater extent than is the case at present. Some yet exist in Norbury Park, Surrey. One, termed "beautiful and extraordinary," as "it does not appear to have ever been lopped or pollorded," was (perhaps is still) flourishing in the grounds of Arngomery House, Stirlingshire. (There is a woodcut and description of this tree in Gent.'s Mag. [1850], p. 395). One of the rooms in Hatfield House, Herts, has a wainscotting of yew from a tree grown on the estate. The well-known yews on the upper terrace at Haddon Hall, Derbyshire, are some of the finest in England.
It was a great favourite in English gardens a few centuries ago, where, on a plan introduced from Holland, it was planted singly as trees, or as shrubs in a hedgerow, and cut and clipped into various shapes, many of whimsical form, the apices of some of the trees being trimmed into the forms of birds. Specimens of this Topiary work, as it is termed, still exist in some parts of England.
Even churchyard yews are not unfrequently subjected to this kind of treatment. Ten in West 269 Harptree Churchyard, Somerset, "have been clipped into cones"; and some at Gawsworth, Cheshire, have been trimmed in a similar manner. But the most wonderful example of one "cut in topiary work," is in the churchyard of Harlington, Middlesex. Of this a print was published in 1729, with some verses by the parish clerk, entitled "Poet John Saxy upon his Yew-Tree, Nov., 1729."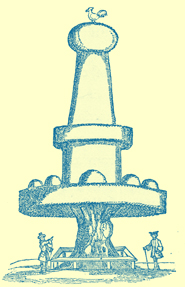 Remarkable Yew-tree.
The lowest portion, ten feet from the ground, is trimmed to the shape of a large circular canopy, overhanging a seat round the trunk. Of its size, the 'poet' gives the following indication: —
"So thick, so fine, so full, so wide,
A troop of guards might under it ride."
The apex is cut into the form of a weather-cock standing on a globe.
"A weather-cock, who gaped to crow it,
This world is mine, and all below it."
270
Its general appearance is shown in the accompanying illustration.*
Why yews were originally planted in churchyards, is a question more easily asked than answered. But when so planted, and after they had attained a fair size, they undoubtedly served several purposes, some useful, others more or less fanciful, and these, in the opinion of many, were the cause of their being placed in the immediate vicinity of churches.
It is commonly asserted they were intended to act "as a screen to churches, by their thick foliage, from the violence of winds" (Rev. G. White), and is apparently based on a passage in a statute of Edward I., alluding to the planting of trees for this purpose, without, however, any specific mention of the yew, prohibiting any tree being cut down for any other purpose, excepting for the repairs of the church itself. Dr. Pegge remarked that timber trees would first be removed, leaving the yew standing; but as it would require a century for the latter to be valuable either for timber purposes or to act as a screen, it is fairly evident that neither had to do 271 with the initial reason for planting it. Moreover, if even intended to act as a shelter from windstorms, a number would have been planted either on the side of prevailing winds, or a belt of them would have surrounded the edifice. Doubtless, on arriving at maturity, they, as Dr. Pegge remarked, "proved subservient to that end." As it is, except in a very few cases, the number is generally one, and occasionally two, one of the latter having been planted at a much later date. Similar remarks are equally applicable to the suggestion, that "they might also be placed as a shelter to the congregation assembling before the church doors were opened" (Rev. G. White). This could scarcely be deemed necessary during the period before the Reformation, as the churches were always open for worshippers.
On Palm Sunday, "palms and other boughs were formally blessed, and delivered to the faithful who took part in the annual procession" (Dr. Lee's "Glossary"). When palm branches were unobtainable, boughs of yew trees were substituted, for example, B. Googe, in his "Popish Kingdom," has this line: —
"Willow branches hallow, that they palmes do use to call."
Again, "Sprigs of Boxwood are still used as a 272 substitute for Palms in Roman Catholic countries" (Brand "Pop. Antiq.," I., 118), and according to Addis and Arnold's "Catholic Dictionary," "Palms or olive branches" are employed. The majority of authorities agree that in England; branches of yew were generally employed; and some express the opinion, that the principal object of the tree being planted in churchyards, was to supply branches of it for this purpose. Eminent antiquaries like Fosbroke and Dr. Pegge have doubted all this, the latter asserting that the yew was "too much of a funeral nature to be made a substitute for the joyful palm." Nevertheless, there is sufficient evidence to show that it was so used. In the Notes to Evelyn's "Silva," it is stated "in confirmation" of the assertion that branches of it "were often carried in procession on Palm Sunday instead of the Palm. . . . The Yew-trees in the churchyards of East Kent are at this day called Palms." In one of the parish books of Woodbury, Devonshire, is an entry in the year 1775, relative to "a Yew or Palm Tree" growing in a singular position in the church tower, and which was subsequently "dug out and planted in ye Churchyeard." Branches of the yew are still used in Ireland for "palms," 273 by which name the trees are yet known. The following paragraph, taken from Caxton's Liber Festivalis ("Emprynted at Westmynster, 1483) corroborates many of the foregoing remarks: —
"For encheson [reason] that we have none olyue that berith green leef therfore we take ewe in stede of palme and olyue and beren aboute in procefsion and so is thys day callyd palme sonday."
That with rosemary, ivy, bay, etc., the yew was alaso employed for church decoration, the following extracts from the parish accounts of St. Lawrence, Reading, will show: —
"1644. pd. for Holly and Ivy, Rosmery and
Bayes att Christmass .................... 0 1 10

pd. for Ewe for the church against
Easter and for sticking of itt upp. 0 1 8."
There appears to be a general consensus of opinion, that the main object of planting the yew, was for obtaining material for bows; and, to use the words of one writer, as these were the "national weapons of defence, the churchyards were the places where they were most likely to be preserved" ("Trans. Brit. Arch. Assoc., xxiv, 196"). This, at first sight, seems to be corroborated by a remark of the Rev. G. White: — "we do not hear that they are planted in the 274 churchyards of other parts of Europe, where longbows were not so much in use."† In some remarks on "two gigantic yew trees at Megginch Castle, Perthshire," it is affirmed they were "originally planted there for making cross-bows," but this is more than doubtful. Shakespeare's allusion in Richard II., (III. 2) to the "double-fatal yew," is usually explained by its employment for death-dealing bows, and for its poisonous qualities. One authority derives the word 'Yeomen' from 'Yewmen,' the men who used the yew-bow, (Pulman's "Book of the Axe," 655.)
Of its employment for making bows, the following extract, from the Churchwardens Accounts of Ashburton, Devonshire, will point out: —
"1558-9 [Receipt.] iijs. iiijd. from lopping the yew tree.
[Payments.] viij to the Bowyer.
iijs. iiijd. to the Bowyer for cutting out
of the 'polme' tree.
iijs. iiijd. for rotting, spolyng, and
carryage of the same tree.


1559-60 xijli. to the Bowyer for makyng
of bowes."
The slowness of growth of yew trees, and the 275 smallness of their number in churchyards, demonstrated that only a small proportion of the bows required for English archers could have been yielded by them; whereas, had this been their original purpose we should naturally have expected that many more would have been planted there.
The remarkable fact that the English yew did not yield the best bows, may be noted here. Stringent regulations were laid down in several statutes, to require merchants to import bow staves from foreign parts simultaneously with other merchandise. In the time of Elizabeth, the price of "each bow of the best foreign yew" was 6s. 8d., while that of an English one was 2s. Spanish bows were then considered by far the best, but history shows that they were required to be used by English archers to make them fully effective as weapons of war. Steevens, in his edition of Shakespeare, expressed the opinion that as yews were required for making bows, "their poisonous quality was kept from doing mischief to cattle," by "being secured in enclosed places," like churchyards; and this appears to derive some support from the statement of Pennant, that the yew in England in its native, or 276 wild state, "is now in most parts eradicated, on account of its noxious qualities" ("Tour in Scotland," II., 26). True it is that to cattle and horses the foliage of the tree is extremely poisonous, but it was not for this reason that churchyards were protected by fencing. Moreover, they were unfenced in parks, and where they grew wild, to which cattle, etc., had free access.
From the tenor of the preceding remarks, it is fairly evident, that the various uses, details of which are given, and to which the yew has been applied, must be considered as secondary only, and in no way to affect the question as to what circumstances led primarily to its implantation in churchyards, a question that several authors have deemed difficult to answer.
Amongst the ancients the yew, like the cypress, was regarded as the emblem of death, and on this account was planted on barrows. Garlands of it, states Evelyn, "were usually worn at funerals."
It is the modern "substitute for the Invisa Cupressus," according to Pennant, imparting, according to another writer, "a solemn and funeral character" to the burial-ground. Fosbroke goes a step further, and terms it "a symbol 277 of death." The "dismal yew" of Shakespeare appears to accord with this view, but its culminating point of gloom finds expression in the lines of Blair: —
"Cheerless, unsocial plant! that loves to dwell
Midst skulls and coffins, epitaphs and worms."
The eminent ecclesiastical antiquary, Dr. Rock, was of opinion, that its cultivation in burial grounds was coincident with the early erection of churches in the Anglo-Saxon period. It has even been suggested that in some instances the presence of a wild or native tree led to the erection of a church near it. As, to the early Christian, death was the harbinger of life; he could not agree with his classic forefathers in employing the yew or the cyprus, "as an emblem of their dying for ever." It was the very antithesis of this, and as an emblem of immortality, and to show his belief in the life beyond the grave, that led to his cultivation of the yew in all the burying grounds of those who died in the new faith, and this must be regarded as the primary idea of its presence there. In his "Hydriotophia" (20), Sir T. Brown appears to waver between the two: — "whether the planting of Yewe in Churchyards hold not its original from ancient Funeral 278 Rites, or as an Embleme of Resurrection from its perpetual verdure, may also admit Conjecture." But Evelyn's opinion is more decisive: — "that we find it so universally planted in our churchyards, was doubtless, from its being thought a symbol of immortality, the tree being so lasting and always green."
In some parts of England, a branch of an evergreen is still thrown into the grave "as a type of hope and eternity;" and in this sense we must accept Shakespeare's line: —
"My shroud of white, stuck all with yew."
At Ashill, branches of it were formerly carried by the mourners to the grave "to deposit therein under the bodies of their departed friends;" and the remarks by Collinson ("Hist. of Somersetshire," I., iij., 13) upon this practice may fitly bring this article to a close: "The branches thus cut off from their native stock, which was to shoot forth again at the returning spring, were beautifully emblematical of the resurrection of the body, as, by reason of their perpetual verdure, they were of the immortality of the soul."
===
=============