From At the Grass Roots, Comprising "The Christmas of 1883," and Other Vagrant Sketches, by Elmer House (Dodd Gaston), with Cover Design and Frontispiece by Albert T. Reid, Topeka: Monotyped by Crane & Company, 1905; pp. i-viii.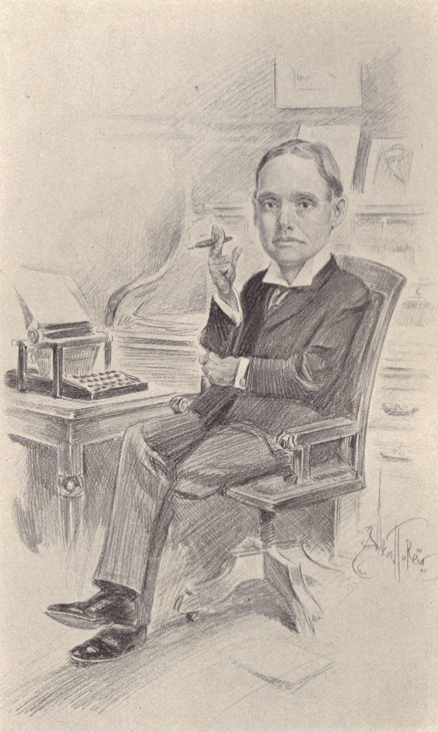 AT THE GRASS ROOTS
COMPRISING
"The Christmas of 1883,"
AND OTHER VAGRANT SKETCHES
______________
BY
ELMER HOUSE
(Dodd Gaston)
______________
WITH
Cover Design and Frontispiece by
ALBERT T. REID
______________
MONOTYPED BY CRANE & COMPANY,
TOPEKA, KANSAS.
1905
Copyright 1905,
By ELMER HOUSE.
TO ARTHUR CAPPER,
whose kindly and encouraging indulgence
gave these sketches inspiration and birth.
(iv)
[blank]
FOREWORD.
______________
This trifling volume goes to its readers without pretense. If the vagrant sketches gathered between its covers possess literary merit, I do not suspect it. They have no purpose, are aimed at no condition, and, so far as I know, point no moral. They were quickened by the spur of necessity, and represent simply the daily striving for enough "copy" to fill a given space. The book itself is the bound sheaf of many a day's hard work. It was written amid the hurry and disorder of a newspaper office, with the clatter of the linotype ever in my ears, and the minute-hand of the clock moving always remorselessly on toward five in the afternoon. Sometimes the day was gray and the hand of sorrow fell upon me as I wrote. Sometimes the sun shone through the window above my head and the melody of my story ran into the major scales.
When the impulse to gather them into a bound volume first came upon me I thought to polish them up a bit. But they wouldn't polish, and they stand or fall here practically as they went to the printer at the close of the day's work. And so, while the impressions herein set forth may lack fineness and clearness, they are given as accurately as my memory vi kept them. The people of whom I have written I knew intimately and well. Most of them were, and are, my close friends. In only one or two instances have I taken the trouble to conceal their identity under assumed names. In nearly every incident or episode spread upon these pages I had a part.
It always seemed to me that the humble folk I knew in boyhood were as interesting as those of more pretentious circumstance with whom my lot has fallen in later years. I think they gathered from their simple diversions a keener sense of enjoyment than do those who set themselves above them. I know their expression of emotion was more natural, their lives less repressed and less hedged in by artificial limitations. And so I have placed a few of them in brief review upon the printed page. Here is the hope that they may hold for you the same degree of interest they have held for me.
ELMER HOUSE.
TOPEKA, December 1, 1905.
CONTENTS
______________
[Click on the Chapter Title and you will be wafted to that page in a new browser window.]
PAGE
"SOCIETY" AT ROWDEN'S FORD, 20
A PASSING GLANCE AT 'SQUIRE HARMON, 25
THE NEIGHBORHOOD'S GAYER SIDE, 41
IN MEMORY OF AN ORNERY PUP, 46
THE GHOST AT SCOTT'S CHURCH, 65
GOING BACK TO GRANDMOTHER'S, 78
THE PASSING OF "MUSKOGEE RED," 84
AN APOSTROPHE TO THE RABBIT, 89
THE SMARTEST BOY IN SCHOOL, 93
A PILGRIMAGE INTO THE PAST, 133
THE TAKING DOWN OF HESTON, 136