From At the Grass Roots, Comprising "The Christmas of 1883," and Other Vagrant Sketches, by Elmer House (Dodd Gaston), with Cover Design and Frontispiece by Albert T. Reid, Topeka: Monotyped by Crane & Company, 1905; pp. 93-96.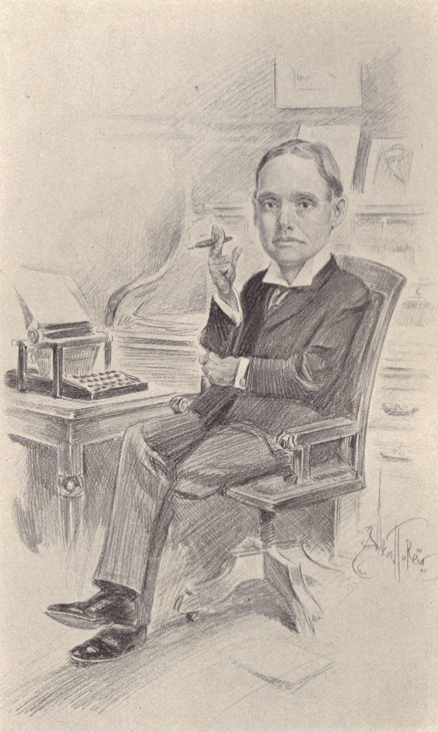 In my day Geddes Burgess was the smartest boy in Grigsby's Station. He knew more than any of the other boys and he told it better. More than that, Geddes Burgess was a clean, manly boy. Doing the right thing seemed instinctive with him. He acquired no bad habits, was careful of his associations, and showed both industry and thrift. We were good friends always, but the time I spent behind the livery stable learning to smoke Geddes utilized in reading history. The summers I wasted acquiring a profane vocabulary and learning to thrown an in-shoot Geddes devoted to getting in touch with the dry-goods business in the emporium of Gage & Bro. In winter he was easily the best student in school and the best orator that appeared at the debates of the literary society. By the time he 94 was twelve years old people had begun to point to him and say there was a boy who would make his mark.
When Geddes finished high school he went away to college. From the side window of the Grigsby's Station Clarion, where I sat, perched upon a high stool setting type, I watched him drive way to take the train for the university town, and although he was my friend there was bitterness and envy in my heart.
Geddes made a great record at college, and he was a big man in his class, but it seemed not to affect him in the least. He came home on his vacations without any of the swagger or undue cranial development which is usually the sign of the college student from a small town. There was not even the suggestion of the university in the clothes he wore, and during his summer vacations he turned his hand to any odd job of work that came along.
He graduated with honor, but he returned home the same simple, unaffected 95 Geddes Burgess I had known from childhood. People looked up to him, treated him with great deference, and everybody predicted that he would cut a mighty wide swath in affairs. It was talked feely that he would some day be a United States Senator or a federal judge, and many thought even the presidency not far beyond him.
Geddes decided to take up the law, and went into the office of the best firm in town. About the time he settled down to the law I took out a traveling-card and went away or a look at the country beyond. I heard occasionally of Geddes in the two years that elapsed before I returned. He was fulfilling every prediction his brilliant youth had made, and was fast developing into a fine lawyer. But when I returned home finally I learned that Geddes had quit the law and was doing newspaper work in the neighboring city. It was said of him at the time that he was the most promising reporter on the 96 staff of the paper for which he worked, and I did not doubt it.
I lost track of Geddes for a while, and when I next heard of him he was in the support of Kern, the great tragedian, and the critics said he was the best young actor seen in the West for years. I did not locate him again for three or four years, when I returned to Grigsby's Station one fall to find him running for State Senator. People said Geddes had struck his gait at last and that he would land high. But as a matter of fact he was beaten by a few votes and dropped out of sight again.
I met Geddes quite unexpectedly in St. Louis a year or two ago. I had not seen or heard of him for six or seven years, but he seemed the same simple, unaffected fellow I had known in my boyhood days. He refused an invitation to take a drink and declined to smoke, but we spent a pleasant hour together. Incidentally, I learnt that he was working as a stenographer in a wholesale house at $15 a week.