From At the Grass Roots, Comprising "The Christmas of 1883," and Other Vagrant Sketches, by Elmer House (Dodd Gaston), with Cover Design and Frontispiece by Albert T. Reid, Topeka: Monotyped by Crane & Company, 1905; pp. 146-48.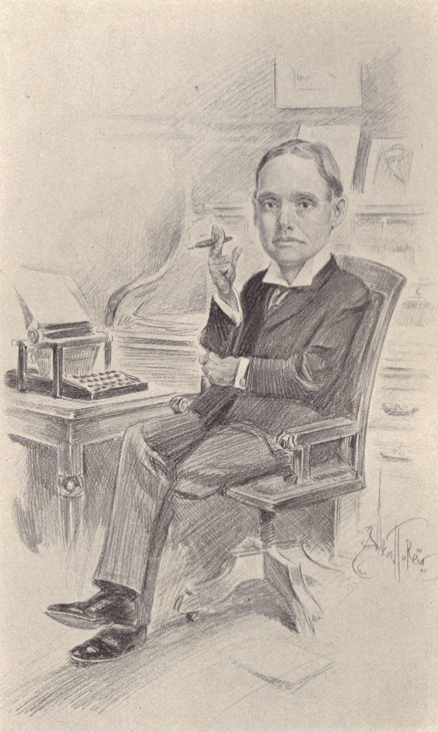 I think the greatest disappointment of my life was the fact that I was never able to lick Nick Hartley. I had plenty of opportunities, but Nick was so much bigger and stronger than I that I was always afraid to take the chance. Nick was a fat, husky lad with a bulldog jaw. He was three or four years my senior, and I don't suppose there was ever was a time in his life when he could not have taken me down and tied me hand and foot. He used to keep me in a state of perpetual terror. I don't remember that he ever abused me specifically, but he knew I was afraid of him and he nagged me and bullied me whenever he had a chance.
It go so that whenever Nick and I were coincident at a "literary," spelling school, or other neighborhood entertainment, I promptly hid out. He had me 147 completely "buffaloed." I used to put in hours nursing my plan of revenge. I figured that I would, in course of time, catch up with him in the matter of physical development, and when that time came I proposed to get him into a big crowd and punch his head off. I had the whole thing systematized, even to the phraseology in which I expected to call him to an accounting. And when I had worked out the preliminary plans I would sit and gloat over the discomfiture which would possess the hated Hartley when I should lick the pea-green stuffing out of him and walk majestically from the field leaving him to the pity of his friends and the jeers of mine.
But I never caught up with Nick. He always held the "edge" on me in the matter of muscle, and I knew intuitively that I should get well thumped if I tried for revenge. Finally our ways separated and I lost track of him, but my failure to put the "fixin's" on him has always 148 been a source of keen disappointment to me. I have an idea that Nick developed into a fair, useful and industrious citizen, and that he is now a respected member of his community. But if he is around anywhere handy I wish he'd come up some day and let me take two or three pokes at his jaw. I couldn't hurt him much, and it would be a great accommodation to me.
end-papers
[The end of the online text of At the Grass Roots, by Jay Elmer House.]