From At the Grass Roots, Comprising "The Christmas of 1883," and Other Vagrant Sketches, by Elmer House (Dodd Gaston), with Cover Design and Frontispiece by Albert T. Reid, Topeka: Monotyped by Crane & Company, 1905; pp. 136-142.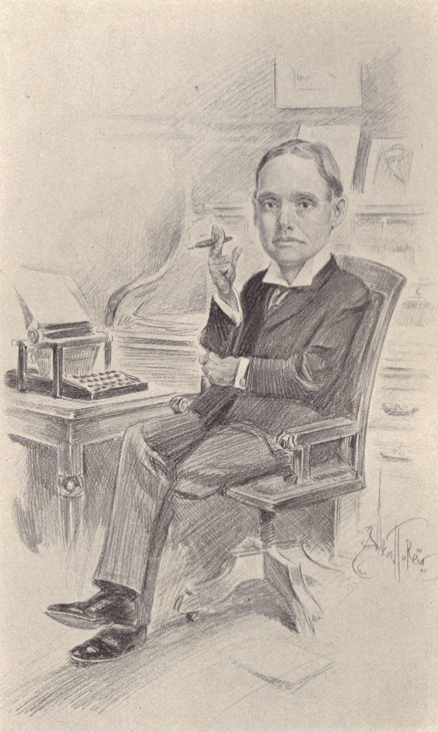 This is a little story describing the manner in which Heston received what was coming to him. It is not a thrilling story, and it has no unusual angles; but because it happens to be true, and because it points a fine, two-edged moral, it is given here.
One night while Heston was sojourning in a big town east of the Mississippi river, Fate picked up the deck and dealt him a Queen of Hearts. There wasn't any game going on at the time and the deal was a little irregular, but Heston and the Queen made up their minds to start one just to play the cards that had been dealt. The lady picture-card in Heston's hand was what the boys call a good looker. She had big brown eyes, the willowy effect in form, and the silken petticoat rustle in her garments. Without subjecting this tale to unnecessary elongation 137 it may be stated that the game opened that night was never closed for three years. Sometimes it was operated under the electric lights, sometimes in the shadows of the front porch, and once a year it was briefly interrupted to be immediately resumed by the shifty sands and in the shade of the woody dells of the Northern resorts.
The Queen came fully up to her advance photographs. She was wonderfully clever, sympathetic, coy enough to satisfy and good fellow enough to please. It was plain from the first hand that she liked Heston immensely, and Heston reciprocated by falling sincerely in love with her. Ahead of them the water was as smooth as glass, and there was a spanking breeze behind. She was of age, her folks liked Heston anyway, and her girl friends were undisguised in their admiration. The got along perfectly, never quarreled, and were as considerate of each other as chance acquaintances at an afternoon 138 reception. When Heston asked her to marry him she didn't ask or time or spar for wind. She just fell over into his arms. And so their courtship drifted along in idyllic fashion for three years. The Queen was steadfastly true, and Heston, considering his opportunities for being otherwise, was reasonably square and honest with her.
But about this time the thing began to cloy a little on Heston. He liked a fighting game, and this one had been so easy that it failed to satisfy his savage instinct. The Queen had never given him any reason to be jealous. Everything he was even suspected of wanting had been handed him on a platter. Nobody had objected to him; nobody had knocked. A pottering scientist couldn't have found an obstacle in Heston's way with the aid of a microscope. He knew that when it came to comparisons he was dirt under the Queen's feet. But things had shaped themselves so that all the zest of the chase 139 had been eliminated, and he liked best that for which he had to fight.
Untoward events helped widen the chasm Heston was digging between himself and Her Gracious Majesty. He had attended to his employer's business so industriously and with such intelligent zeal that he found himself out of a job, and came West to look for a new one. With the new job he found new faces, and in a month or two there was a new photograph on his dresser. The Queen wrote frequent bright, gay and gossipy letters, which Heston occasionally read and infrequently replied to briefly. After a while the Queen, who was smart, even if she wasn't many-sided in her knowledge of men, saw how things were going. And so one day Heston took a package out of the postoffice containing his ring and a dignified, but pathetic little note breaking the engagement.
There were no reproaches, no accusations. The note was even jocular in a 140 way. But beneath its surface there was visible a woman's sorrow. The note bothered Heston a little, not that he cared much about the Queen. He was too busy with some Princesses and a few Houris and Seraphs. But he knew he'd been a dog, and rather regretted it. He wrote the Queen a nice letter, which he didn't at all feel, and the incident pratically cloed. One in a while for a few months after, he exchanged letters with her, but there was no recurrence of the old symptoms, and after a while even the occasional letters ceased.
That was two or three years ago. Meanwhile things ha not gone so well with Heston. He had his troubles. The game broke badly for him, and the Princesses, Houris and Serpahs were not there with the comfort and sympathy. So it is not to be wondered that his heart turned instinctively to the Queen. He remembered her cleverness, her never-failing powers of entertainment, 141 and above all, her kindly sympathy. And in time his desire to see her overcame his scruples as to what her own attitude in the matter might be. He had heard nothing from her for a couple of years, and wasn't even sure she lived at the old place. But without telling her anything about it, he took a layoff and made the trip East to see her.
The maid who went upstairs said the Queen would be down in a minute. Presently she came rustling into the reception room, her face aglow and a smile of welcome in her eyes. They talked a while in the old, informal, gossipy way and the Queen planned a little dinner for the following evening. Her frank cordiality and apparent pleasure at the meeting disarmed Heston of any suspicion that his hand might be worthless. So he invited her to go to the theater that evening. She accepted, and as Heston wasn't sure he could get tickets for the performance he made an appointment to 142 come back in an hour or two and let her know. When he got back to the house the reception room had clouded up and was beginning to rain. There was another man, and the man was cross and discourteous. The Queen tried to keep the conversation going, but things grew so chilly that Heston left after telling her he had secured the tickets.
That night on the way to the theater she was even gayer and more cordial and friendly than she had been in the afternoon.
"And why," said Heston, "are you so extraordinarily nice to me tonight? What have I done to deserve these selections from the conservatory?"
"Well," said the Queen, and there was the light of triumph in her eye, "I'm being nice to you because I do not expect to see you again." She let it soak in for a couple of blocks, and then she added: 'I am going to marry Mr. Farrell this winter."