From At the Grass Roots, Comprising "The Christmas of 1883," and Other Vagrant Sketches, by Elmer House (Dodd Gaston), with Cover Design and Frontispiece by Albert T. Reid, Topeka: Monotyped by Crane & Company, 1905; pp. 72-77.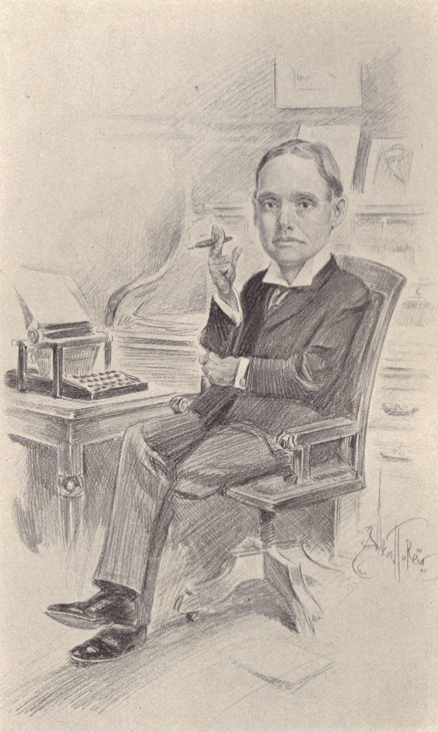 I spent a Sunday lately back at Grigsby's Station. In the memory of every man who gravitates from the clean dirt to paved streets there is a Grigsby's Station, and most of them pretend to love it. I don't. Frankly, the town grinds upon my soul and maddens me. I hate its narrow, jaundiced view of life, and I resent the prying interest of its uncouth, unshaven men and its gossipy, slatternly women. I hate its meddling and its tendency to sit in judgment on the affairs of others, although I do not forget that when sorrow comes to rest on one's doorstep Grigsby's Station is always responsive, an that it gives freely in sympathy and in neighborly kindness.
Grigsby's Station wears somewhat ostentatiously the mantle of religion. Human endeavor finds its principal outlet 73 there in getting people to the mourner's bench. Seven months in the year they hold revival services at the churches. The fullness of the remaining five is consumed in getting the converts into the water. They talk of the moral atmosphere of the town, and boast that it never had a saloon. And yet during the past twenty years I've known a hundred strong, useful young men in the town who went to hell through drink, and I've known a hundred girls who turned to the left because the town was so busy saving souls that it had no time to provide the clean, simple diversions beloved by youth, or to point the way to a higher plane of living.
Sunday begins early in Grigsby's Station, and on the day of which I write I tumbled downstairs to a late breakfast to find the Neighbor Woman who teaches a class in the Sunday school holding converse with the Family. She had dropped in to find why the Family had 74 gone to a show in the "opry house" the night before instead of attending the services at which the presiding elder delivered a sermon. She noted also that the Family had been somewhat irregular in its attendance on Sunday school, and pressed it for a reason. And as she chattered on I noted curiously enough that while there was much of the church, of the minister, the prayer-meeting and kindred topics in her speech, it was all pitched to the note of querulous complaint. There was nothing of the joy of living, she touched no chord of fine endeavor, and made no record of the deeds of those whose influence was exerted outside the narrow sphere in which she lived and moved.
In these later years I do not go much about in Grigsby's Station. Those I knew intimately and well have mostly gone away and those who remain hold no interest for me. But on the occasion of which I write, my cigar-case had run 75 low and I harked uptown to replenish it. The center of activity uptown seemed to ebb and flow in front of the livery stable, where twenty or thirty men, most of whom needed clean linen and a shave, were grouped. In the barber shop a hot game of checkers was in progress, and there was tremendous excitement among the onlookers. A little farther up the street a man came out of the butcher-shop with a roll of meat under his arm. As I walked back the 'bus went by on its way to the noon train.
After dinner Mrs. Shank Reeves came over to sit awhile. Mrs. Reeves was much perturbed. One of the Slote boys had married one of the Peck girls — somewhat unexpectedly, it seemed — the night before, and Mrs. Reeves was in a flutter of excitement to learn whether it was a "military" wedding. I left the house again to shut out the memory of Mrs. Reeves.
76 Four girls, none of them more than sixteen, came down the street past the hotel and peeked in. They had hoped to find a traveling gentleman, but there was no one hanging about the hotel office and they went on to Epworth League. I continued my walk. On a back lot four men were pitching horseshoes. A little farther on, Ed Simons's dog had chased a cat up a tree and was holding it. Just beyond the schoolhouse grounds I ran into and disturbed a fence-corner poker game.
I got back in time to join the crowd on its way to see the 4 : 38 train come in. At the station there was great excitement. Someone had broken a pane of glass in the waiting-room, and a young couple reputed to have recently become engaged were walking up and down the platform. I returned to the house to find Mrs. Shipley there. She had run over to borrow a little coffee for breakfast, and to express her opinion 77 of the Widow Carver. Pretty soon the church-bells rang. At eight o'clock a dog barked somewhere in the neighborhood, and by nine o'clock everybody was in bed. I had spent twelve hours in Grigsby's Station and had heard no generous thought expressed nor seen a single kindly deed performed.
In the memory of every man who gravitates from clean dirt to paved streets there is a Grigsby's Station, and most of them pretend to love it. I don't. Frankly, the town grinds upon my soul and maddens me.