From At the Grass Roots, Comprising "The Christmas of 1883," and Other Vagrant Sketches, by Elmer House (Dodd Gaston), with Cover Design and Frontispiece by Albert T. Reid, Topeka: Monotyped by Crane & Company, 1905; pp. 46-49.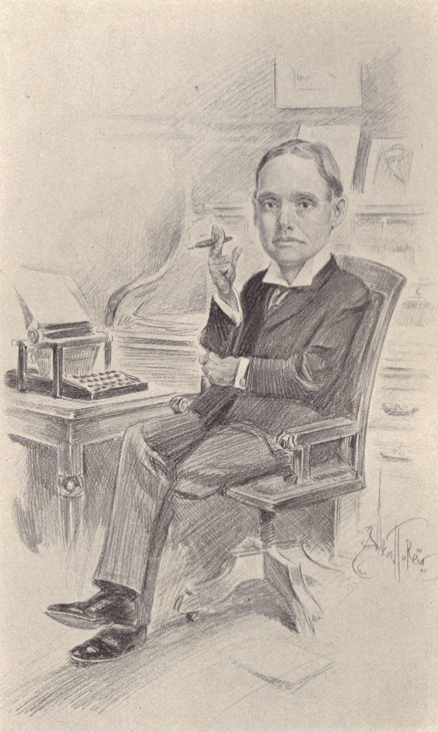 Generally speaking, I have no complaint to make. The world has been kinder to me than I deserved. Its people have often returned good for evil. My digestion has been saved to me unimpaired, and while I would have preferred to keep my hair a little longer, hair is more or less a thing of vanity and should not be entered when the ledger is balanced.
Two or three women to whom I had been fair and gentle hurt me by being cruel when it would have been just as easy to be kind. A few men whom I trusted and with whom I was frank and honest passed me the hot end of it. But in the main, I have faith in the human animal and stand for him. And still I must admit that my warmest friends have been dogs and tobacco. No dog friend 47 ever went back on me. Tobacco never failed to soothe and comfort. Looking through the smoke that curled from my cigar I have dreamed the finest dreams. Never yet have I looked in vain to a dog for reassurance and sympathy. And so I dedicate one chapter of this little volume to an Ornery Pup whose brief biography runs like this.
Once there was a pup cast adrift on the tide of dogdom who came a derelict to the kitchen door of an old-fashioned woman I know. He was an Ornery Pup whose lineage was untraceable beyond the first generation of forbears. His pedigree was tainted at every crossing by mongrel blood. His coat was mangy and his bones stuck out. But when he touched at the kitchen door of the old-fashioned woman he was in still waters and a safe harbor.
Between the Ornery Pup and me there sprang up a fast friendship. For six weeks we fished in the creek, watched 48 for the young squirrels in the woods pasture, and lay for hours in the sun on the grass-grown declivity that sloped down toward the timothy meadow. And then, without saying even "good-by" to the Pup, I went away to try my luck elsewhere, leaving him to his amours and the humdrum life of the farm.
It was two years before I dropped anchor in that port again. I tacked into the harbor well along in the small hours of a moonlight night, as much a derelict as had been the Ornery Pup of two years before. For I had fought my first important battle with the world and had retreated.
Heartsick and weary I swung the front gate open, and as the latch clicked the Ornery Pup, grown now into a mature dog, came bounding to meet me, and jumping upon me with his dirty paws, licked my face in an ecstacy of joy. It mattered not to him that my coat was old and ragged and that my shirt had 49 gone too infrequently to the laundry. He cared nothing that I needed both a bath and a shave. His friend had come back and he was glad.
The Ornery Pup is dead these seven years now. We buried him on the little mound above the pool in the creek where he and I together caught the five-pound bass, and I sometimes think a little of my heart went into the grave with his inanimate clay. For once when the wind blew out of the northeast and the sky was gray, the Ornery Pup brought to me the first kind message I had heard in two years.