From At the Grass Roots, Comprising "The Christmas of 1883," and Other Vagrant Sketches, by Elmer House (Dodd Gaston), with Cover Design and Frontispiece by Albert T. Reid, Topeka: Monotyped by Crane & Company, 1905; pp. 84-88.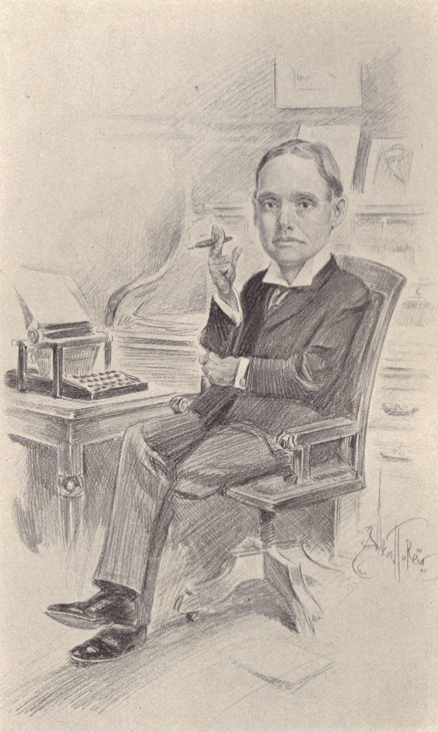 THE PASSING OF "MUSKOGEE RED."


"Muskogee Red" has passed on. In a little Territory town, one of the sentinels set by civilization at the outpost nearest to the wilderness, they found him one morning cold in death. The light had failed in the breath of a December storm, and the body lay unprotected from its fury. The coroner's jury gathered quickly, rendered a verdict of death from chronic alcoholism, and the undertaker hauled the body to a convenient potter's field. There were no flowers, no friends. The solitude and loneliness of the man's life found fitting complement in its hard, almost brutal, ending.
"Muskogee Red" was an Irishman by birth, a printer by trade. He had the burr of his country's dialect upon his tongue, its map graven upon his face. Before drink benumbed his faculties he 85 was a clever fellow. But that was long ago. Before it unsteadied his hand he was a good workman. But that was also long ago. For twenty years preceding his death he had but one passion, but one ambition. And that was whisky. A drink brought content, three drinks happiness, enough to fill a pint flask was Heaven. Other men who had gone "Red's" gait gathered themselves together as they began to slip over the brow of the hill toward the sunset. They married, reared families, grew a vine and fig tree, and turned their faces toward reputable ambition.
But "Red" never shifted. Every vista down which he peered had liquor at the end. He wandered about over the face of the earth scantily clothed, as scantily fed, and with nowhere to lay his head. He never knew the comforts of a home, the assurance of permanency, or felt the soft touch of a woman who loved him. Toward the end his own craft 86 shunned him. A few friends he kept through it all. There were those who could look far enough beyond the benumbing, degrading influence of drink to see the warm-hearted, fine-fibered Irishman it had led astray. They gave him pleasant greeting and paid, to the end, the tribute he levied.
The writer was "Red's" friend for more than fifteen years. It cost him an average of $5 a year in tribute, but he never grudged the money. It is worth a great deal more than $5 a year to give any fellow-being the exact thing he needs to make him happy. "Red" was always in conflict with the police. He claimed to hold the jail and calaboose championship of the country, and there was none to dispute his title. And yet, the only entry ever set against his name on the police court records was "drunk and disorderly." He never stole nor cheated, he never gambled, and he assailed neither the honor nor virtue of woman.
87 He knew he was going as he did. The last time the writer saw him was on a cold winter evening at the beginning of the year. He had come up to collect the final dividend on the friendship we bore each other. And, strange to say, he was sober. "I'm goin' away," said he, preliminary to his always masterly exposition of the "touch." "Likely yez 'll never see me agin. I'm gittin' old, and some marnin' they'll find me stiff and cold." He got the small silver he asked for, and drifted down the office stairs a derelict on the tide of life, too far gone in ruin and decay to hold out a hope of salvage.
"Muskogee Red's" life had no saving grace except insofar as it serves a warning. He frittered it away in utter folly. But there is this about it to make one think: if it seems that your life is cast within hard lines, compare it with "Muskogee Red's." For forty years he fought a demon appetite that brought 88 him nothing but misery and woe. He never had a home or reasonable assurance of a coming meal. No child ever laid its soft face against his bearded cheek. No woman ever watched for him at the window or listened for his footsteps.
And, because there is no other to do it, the writer drops a tear on his neglected grave. Here's hoping that on the Other Side there'll be no mad appetite to drag him down, no folly to benumb the best that's in him.