From At the Grass Roots, Comprising "The Christmas of 1883," and Other Vagrant Sketches, by Elmer House (Dodd Gaston), with Cover Design and Frontispiece by Albert T. Reid, Topeka: Monotyped by Crane & Company, 1905; pp. 89-92.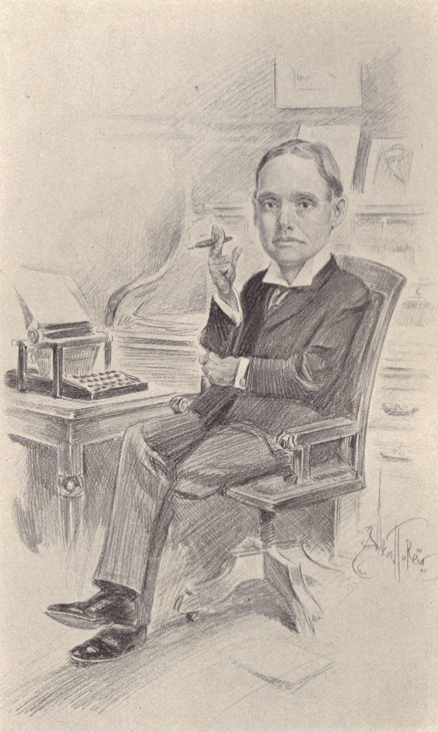 If I detest any one thing more than another, that thing is politics. I hate the game as fiercely as a Methodist preacher hates the jack of spades. And yet, nearly all of my close friends are in politics, and I have been closely associated with politics and politicians all my life. Once a woman, startled into speculation by some expression of disgust that had crossed my lips, asked why I detested the game in which so many men find their keenest enjoyment. I promised her that one day I should write a specific reply. And that is the justification the reader must find for that which follows.
I hate politics because it makes rabbits of men. It turns the most courageous into spineless, abject imitations of their Creator. A politician once said to a friend of mine: 'I like Gaston, and I'd 90 like to be friendly with him, but he keeps me at arm's-length. He won't warm up to me." I kept him at arm's-length because politics had made him a creeping, crawling thing afraid of his own shadow.
Poke Smart is my best friend. I would go farther and carry a heavier load for him than any other man I know. Poke used to be the bully boy of his town. He was a natural leader, and when he spoke they all danced to his music. Poke did his business in the open, and one knew always where to find him. Before he was elected to office he had the fine courage to stand always for the thing he believed to be right, and the finer courage to admit it when he was wrong. Since Poke was elected to office he hasn't squeaked. Every opinion he has expressed has been spoken in a whisper.
Alfred Farley is a fine, clean, decent young man against whom nothing can be said. I like him immensely because he is fine and clean and decent. Upon 91 a time there was a function in which Farley and I participated. Evening clothes were optional, but other participants in the function got together and decided that it was the thing to dress for the occasion. Farley was approached in the matter. "I can't do it, boys," he said. "I'm in politics, and if I were to wear my evening clothes the fellow would say my head had swelled, and it would hurt me."
I greatly admire the Hon. Benton Griggs. Griggs has such a fine mind, such breadth and poise and strength of character, that he is one of the most likeable fellows I know. He used to be so frank and open and courageous that association with him gave the keenest sort of joy. But Griggs, who has been in politics less than two years, has commenced to trim. He talks cautiously and is beginning to resort to platitude. Some things that were admirable have already gone out of his makeup. In five years, 92 if he sticks to politics, his spinal vertebræ will be gone and he will be like the rest.
I take it that if I were in politics, I, too would be a rabbit. And while I have only a humble job at a modest wage, I greatly prefer it to the best politics has to offer. For I do not have to kowtow to the voters, nor cater to the tiresome asses who attach themselves to every political caravan. And I can wear what I choose, eat what I please, and say what I like.