From The Wit and Humor of America, edited by Marshall P. Wilder, Volume III, New York and London: Funk and Wagnalls and Company, 1911; pp. i-vi.
front-papers
[i]
Library Edition
____

THE WIT AND HUMOR
OF AMERICA
In Ten Volumes
VOL. III
[ii]
[blank]
[frontispiece]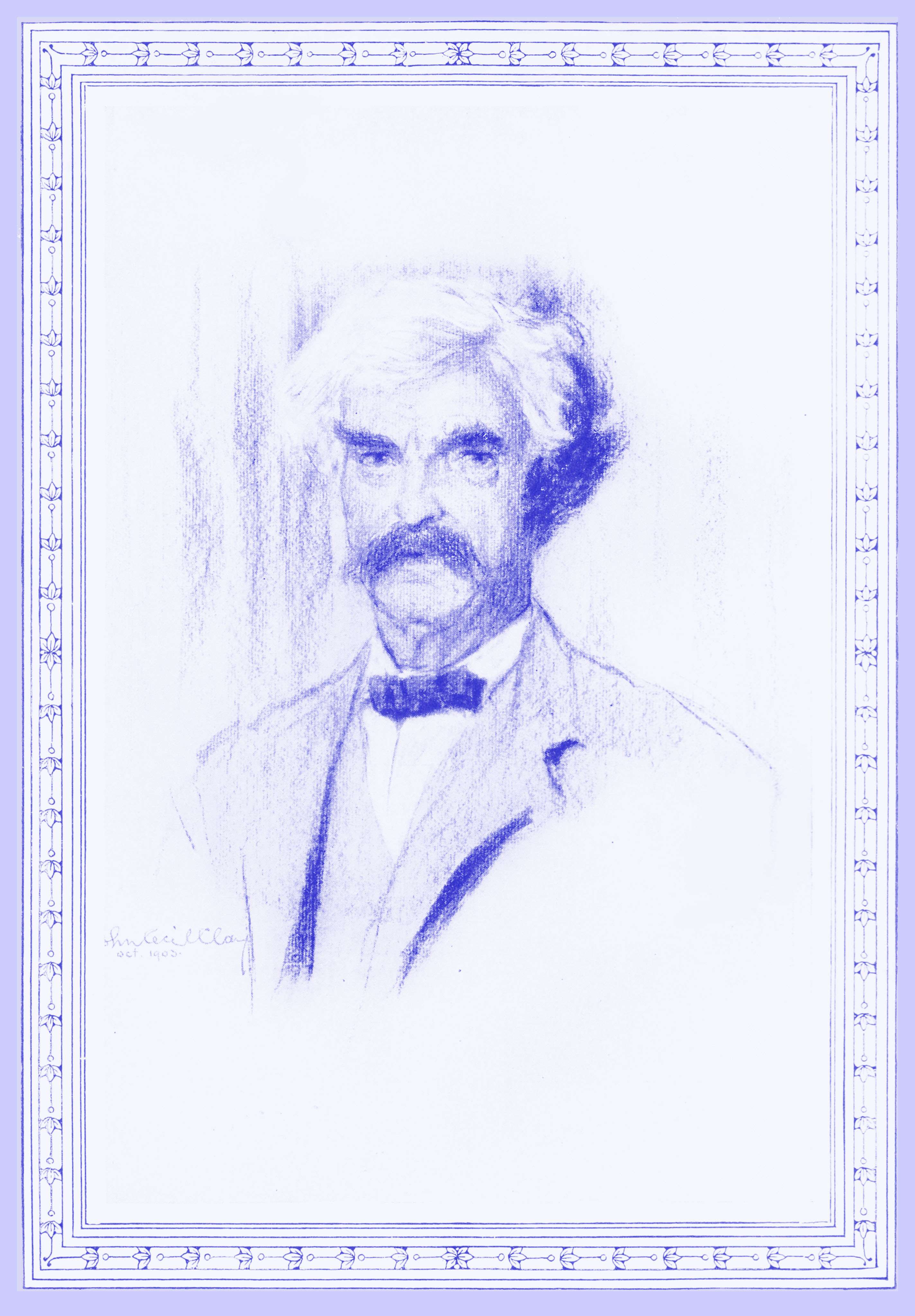 SAMUEL L. CLEMENS (MARK TWAIN)
by John Cecil Clay, October, 1903.
[iii]
THE
WIT AND HUMOR
OF AMERICA
EDITED BY
MARSHALL P. WILDER
Volume III
Funk & Wagnalls Company

New York and London
[iv]
Copyright MDCCCCVII, BOBBS-MERRILL COMPANY

Copyright MDCCCCXI, BOBBS-MERRILL COMPANY
[v]
CONTENTS
[Click on the title, author, or page number to go to the story.
The page will then open in a new browser window.]
PAGE
Arkansas Planter, An Opie Read 556
Auto Rubaiyat, The Reginald Wright Kauffman 546
Ballade of the "How To" Books, A John James Davies 416
Bohemians of Boston, The Gelett Burgess 519
Courtin', The James Russell Lowell 524
Crimson Cord, The Ellis Parker Butler 470
Diamond Wedding, The Edmund Clarence Stedman 549
Dislikes Oliver Wendell Holmes 536
Dos't o' Blues, A James Whitcomb Riley 486
Dying Gag, The James L. Ford 569
Elizabeth Eliza Writes a Paper Lucretia P. Hale 454
Garden Ethics Charles Dudley Warner 425
Genial Idiot Suggests a Comic Opera, The John Kendrick Bangs 504
Hans Breitmann's Party Charles Godfrey Leland 446
Hired Hand and "Ha'nts," The E. O. Laughlin 419
In Elizabeth's Day Wallace Rice 572
Letter from Home, A Wallace Irwin 522
Little Mock-Man, The James Whitcomb Riley 540
Little Orphant Annie James Whitcomb Riley 444
Mammy's Lullaby Strickland W. Gillilan 542
Morris and the Honorable Tim Myra Kelly 488
Mr. Stiver's Horse James Montgomery Bailey 464
My First Visit to Portland Major Jack Downing 409
My Sweetheart Samuel Minturn Peck 544
New Version, The W. J. Lampton 574
Our New Neighbors at Ponkapog Thomas Bailey Aldrich 403
Plaint of Jonah, The Robert J. Burdette 485
Retort, The George P. Morris 584
Rhyme of the Chivalrous Shark, The Wallace Irwin 483
[vi]
Rollo Learning to Read Robert J. Burdette 448
Selecting the Faculty Bayard Rust Hall 437
Southern Sketches Bill Arp 575
Tower of London, The Artemus Ward 528
Traveled Donkey, A Bert Leston Taylor 428
Tree-Toad, The James Whitcomb Riley 418
TwoAutomobilists, The Carolyn Wells 573
Two Business Men, The Carolyn Wells 583
Two Housewives, The Carolyn Wells 566
Two Ladies, The Carolyn Wells 548
Two Young Men, The Carolyn Wells 565
Uncle Simon and Uncle Jim Artemus Ward 539
Wamsley's Automatic Pastor Frank Crane 511
Wild Animals I Have Met Carolyn Wells 414
COMPLETE INDEX AT THE END OF VOLUME X.