~~~~~~~~~~~~~~~~~~~~~
ONLINE INTRODUCTION TO

A ROMAN REPORTER,
by
Arthur Aikin Brodribb


The other Brodribb!
I found this book, A Roman Reporter, by A. A. Brodribb, browing online and recognized the last name from a few paragraphs of the Germania, by Tacitus, translated by Church and Brodribb on my site. I liked the translaton and so was intrigued about this book's title. It was the only one for sale on the net, then and now, it is not online already and it was not expensive. When I found out that it was fiction, after researching it, that didn't stop me. I like it when scholars do other work outside of their usual sphere.
It was not till I got the book in my hands and did some more research that I discovered that it was not by the scholar William J. Brodribb at all , but by his half-brother! (I had only remembered his last name.) Arthur Aikin Brodribb is his name, the author of the little novel. He worked for The Times of London as a reporter and editor for years. His emphasis was on political news. See the Times obituary for the details.
A. A. was a part-time Latinist and translated Latin poetry and other work. As I said I like it when a person has two strings to their bow, so I am just as happy, if not more, with this other Brodribb and his story.
With his classical background, he chose to write a bit of historical fiction set in the early fourth century: 308 A. D. Note: I think that this is meant to be a children's book, middle school plus or minus a few years.
It is attractive because here is a Modern reporter telling a story about an ancient Roman reporter. The idea that there were reporters in those days is not something that I ever thought about. But if there was anyone who would seek out all the fine details about what a Roman reporter did, then A. A. would be the one!
The plot is unusual, and this is an unfamiliar period, so reading the story is instructive, even if you are not in middle school! Plus its short and it won't take you any time at all to zip through it. It is not complicated and there were maybe two funny bits max (subtle, too).
Is this the greatest book in the world? No. But it is better than lots of books, and sneaks in some accurate historical material about a little known era, about a culture that kids and grown-ups, generally, know almost nothing about.
Since this book is not online elsewhere and I have the only copy that has been for sale for the last couple of months, as I said, it is worth reading just to say you are one of the few who has read the work of the other Brodribb!
There were very few typos, which have been fixed, and so noted in the course code of the page.
The book is a small one in appearance, with hard covers — it's a little bit bigger than your standard paperback.
The cover has had something spilled on it. It is unusual because it is in three colors stamped fabric-covered boards: red, black and a weird beige. I have cropped and used the two pictures on the top and bottom of the individual pages for the book. I did change the beige to white, for better contrast. As you can see, after a hundred years the beige just looks dirty: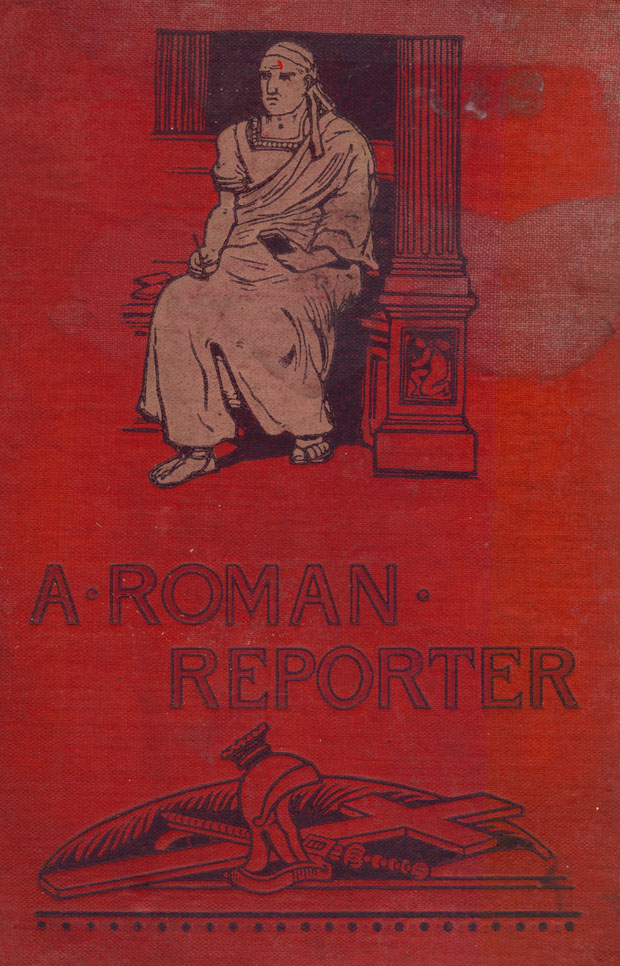 The spine of the book, has the title in gilt at the top:
At the bottom of the spine, there is an eagle perched on top of the initials SPCK, which stands for "Society for Promoting Christian Knowledge&:#8221;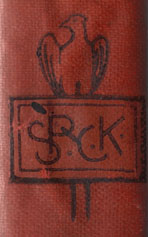 It has a rosy floral front- and end-papers which are pretty. I like this much better than marbled end-papers! I don't think I have any others with this particular print. The quality is excellent. There is no foxing (ugly brown spots) on the pages. The paper is not brittle or toned, either.
There is a penned autograph on the front-papers: "Rosamond Coney. 7/27/33." on the right hand side:
On the left, this is written: "Charlotte, Mich., Grace Mission S. S. 22.":
As you can see, The handwriting looks mature and not juvenile.
So what is the book about? I ain't telling. You have to read it for yourself! Get started below.
~~~~~~~~~~~~~~~~~~~~~