<><><><><><><><><><><>
From The Pall Mall Magazine, Edited by Lord Frederic Hamilton, Vol. XII., May-August, 1897; London; pp. 510-520.
[510]
Copyright Composition Photograph] [by D. H. Anderson, New York.

Lee and his Generals.
511
Residence of President Jefferson Davis. ("The White House of the Confederacy".
LEE OF VIRGINIA.
II. — THE DEFEAT OF POPE'S ARMY AND THE BATTLE OF ANTIETAM (SHARPSBURG).
GENERAL LEE had now, in the seven days' battles (June, July. 1862), raised the siege, and driven McClellan's army from the gates of Richmond. There it lay, in fortified camp at Harrison's Landing on the James River — a formidable army still, numbering more than ninety thousand men, and only two marches away. Heavy reinforcements would be forthcoming, and the Confederate capital was still its objective point. Lee was not in a position to attack, nor did he propose to lose valuable time by waiting to be attacked. His plan was to draw McClellan away from Richmond altogether, and, by menacing Washington again, to transfer the war to middle or northern Virginia.
While McClellan was recovering from his punishment, important changes transpired in the Federal administration. President Lincoln, in the first place, collected together the forces of Frémont, Banks, and McDowell, which Stonewall Jackson had scattered in the Valley, to form a new army, and assigned its command to Major-General John Pope. Secondly, he called to his personal counsel, as military adviser, Major-General Henry W. Halleck, who was made commander-in-chief of the entire land force of the United States.
General Pope was forty years of age, a native of Kentucky, and a West Point graduate. He was called from the West, where he had been campaigning with some little success, to assume command of what was called the Army of Virginia. 512 He entered upon his new task in a blustering, aggressive way that stirred up the hatred and contempt of Virginians at the outset, and failed to gain him prestige with his own troops. General Pope made the egregious mistake of crowing before he had even entered the woods. Besides, he was too fierce and sanguinary. "He was evidently deeply impressed with the idea," remarks General "Fitz" Lee, "that the war in Virginia had not been conducted properly, and that he had been brought from the West — where, as he said, he had only seen the backs of his enemies — to destroy the human race at the South generally, whether armed soldiers or unarmed citizens." His soldiers had, according to his own proclamations, unlimited licence for robbery and violence wherever they passed in Virginia while peaceable noncombatants were liable, under his orders, to be seized and held as hostages, if not executed as "spies." As for the bombastic general himself, his headquarters for this campaign were "in the saddle," and he did not propose to worry about lines of retreat or bases of supplies.
General Lee soon took the measure of Pope, and his estimate may be inferred from the kind of tactics he brought to bear upon him — tactics of such audacity as he would scarcely have ventured against an antagonist like McClellan, whom he respected if he did not fear. Not that General Pope was an incompetent soldier, either. His plans were laid skilfully enough, and might possibly have been successful if Lee and Jackson and Longstreet had given him battle in the orderly, conventional way which, according to the precepts of theoretical warfare, he thought he had a right to expect. He might have obtained a valuable hint in this regard, had he been so minded, from McClellan, who remarked in one of his dispatches to Halleck about this time, "I do not like Jackson's movements. He will suddenly appear when least expected."
As soon as Pope, with forty-three thousand men, had penetrated Virginia in the direction of the important railroad junction town of Gordonsville, General Lee prepared to strike him before he could be reinforced by Burnside from Fredericksburg, or by McClellan's army from the vicinity of Richmond, viâ Washington. He began by sending, on July 13th, eight thousand troops under Jackson to Gordonsville. It was about a week before McClellan heard of this movement and notified the Federal authorities. On the same day that he did so (July 20th), Pope reported Jackson in his vicinity at Culpeper. This intelligence startled Washington, and it was decided to withdraw McClellan from Richmond, where he was still in awe of an imaginary overwhelming Confederate force, reckoned by him at two hundred thousand. He made it just one hundred and forty thousand too large this time, for Lee could not have had more than sixty thousand men. McClellan did not actually get under way to leave until August 16th, by which time General Lee in person, with Longstreet and ten brigades and R. H. Anderson's division, had started to join Jackson in Pope's front. In the meantime, on August 9th, Jackson had encountered a portion of Pope's army, under Banks, at Cedar Mountain, eight miles from Culpeper, and fought a rather evenly contested battle, resulting to the advantage of the Southern troops. Nightfall, however, prevented their following up the retreating foe, and Banks was heavily reinforced the next day.
Having thus hazarded the safety of Richmond upon a guess as to what McClellan and Pope would do, and having as the event proved guessed right, General Lee brought up practically his whole army to the Rapidan, in pursuit of his purpose of crushing Pope before the latter's main reinforcements could reach him. Through the accidental capture of a dispatch, Pope learned of the movement preparing against him, and fell back behind the Rappahannock, on the banks of which river the two armies now confronted each other.
513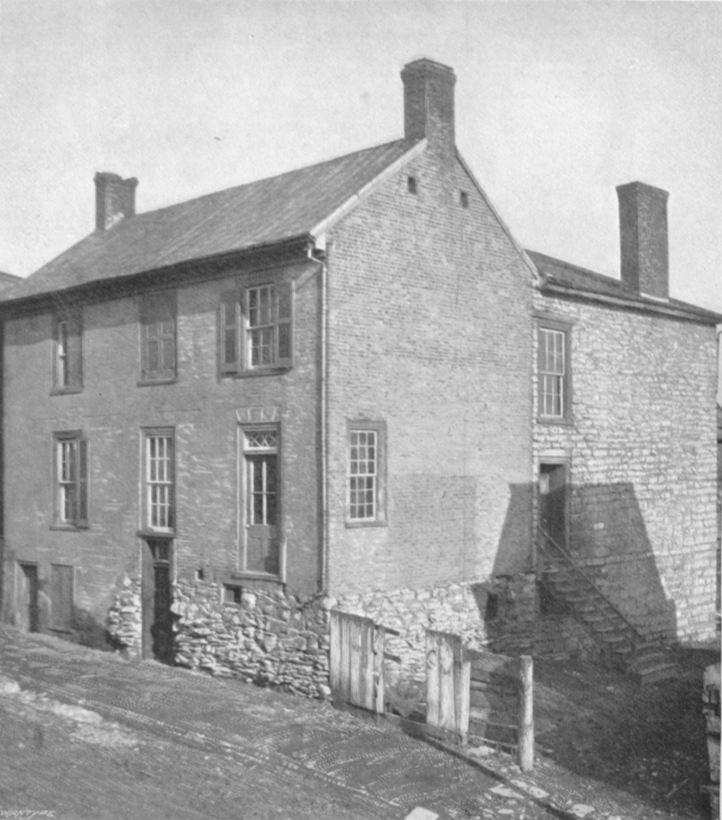 Stonewall Jackson's House, Lexington, Va.
On August 17th, General Lee had written home from "Camp near Orange Court House":
"General Pope says he is very strong, and seems to feel so. I hope he will not prove stronger than we are. I learn since I have left that General McClellan has moved down the James River with his whole army. I suppose he is coming here too, so we shall have a busy time. Burnside and King from Fredericksburg have joined Pope, which, from their own report, has swelled Pope to ninety-two thousand. I do not believe it, though I believe he is very big."
In this campaign against Pope, leading up to and comprising the series of engagements known as the Second Battle of Manassas (or Second Bull Run), we find in ideal conjunction those two grand soldiers and companions in arms, Lee and Jackson. The Cavalier from eastern tide-water, and the stern Scotch-Irish Presbyterian from the mountains of north-western Virginia, were congenial friends, 514 who believed in one another, and were never for a single moment at variance. Any attempt at comparison with the idea of disparagement to either must be founded upon a total misconception of the characters of both. Lee was the master mind, at once brilliant and calm, cautious and bold. Jackson was, and prided himself upon being, his great commander's chief lieutenant, his "right arm," swift and powerful and sure. Jackson regarded Lee as "a phenomenon," and declared he was "the only man he would follow blindfold." He did with all his might anything and everything that Lee asked him to do; and Lee entrusted him with orders such as never were laid upon officer before.
General Richard H. Anderson.
And their troops — the Spartan rank and file of the Army of Northern Virginia! What brighter light could be flashed upon them than the remark of a Federal critic, who wrote about this time: —
"The truth is, the rebel generals strip their armies for a march as a man strips to run a race. Their men are 'destitute' when they reach our lines, because they cannot cumber themselves with supplies. They come to fight, not to eat. They march to a battle-field, not to a dress-parade. When shall our armies be found, for a like reason, 'destitute in the presence of the enemy'?"
General Lee began operations by sending his cavalry leader, J. E. B. Stuart — who had just been commissioned as a major-general — upon one of his dashing raids around to Pope's rear. The object was to destroy the railroad there, so as to "hold up" the reinforcements and supplies which would be sent to Pope from Washington and Alexandria; for by that route must come as much of McClellan's army as had been transferred to Washington by water from the James River. Stuart acquitted himself, on this duty, with his usual prowess, and succeeded in capturing General Pope's headquarters, personal effects, and correspondence, which later confirmed the supposition that McClellan's army was hastening to his assistance; but the main object of the expedition, the destruction of the railroad, was not accomplished. A terrific rainstorm and pitchy darkness, on the night that Stuart struck the line at Catlett's Station, prevented him from doing any great damage, and he had to get away before daybreak.
To repeat on an enlarged scale, with the great flanker Stonewall Jackson in charge of its execution, a movement similar to that which had just been made by Stuart, was now General Lee's determination. His army at this date (August 24th, 1862) numbered fifty thousand troops. Pope, having been joined by Reno's corps of Burnside's army from Fredericksburg, had about the same number of men as Lee; but, two days later, this was increased by the arrival of Fitz-John Porter's and Heintzelman's corps to seventy thousand.
Lee unhesitatingly divided his army into two parts, an set to work with his smaller force to "surround" the greater one of his enemy across the river. He proposed to hold the line of the Rappahannock with thirty thousand men under Longstreet, and so occupy the attention of Pope, while he sent Jackson around 515 with the other twenty thousand, by a swift circuitous march of fifty-six miles, to a point directly in Pope's rear, and upon his line of communication with Washington. Jackson accordingly crossed the upper Rappahannock on the morning of August 25th, and on the evening of the 26th reached his objective point on the main railroad line in Pope's rear. That same night he captured Manassas, the railway junction station, with eight guns, three hundred prisoners, and vast quantities of stores of every variety, most of which had to be destroyed, for want of transportation to move them. The railroad was torn up, and bridges, cars, and depots were burned.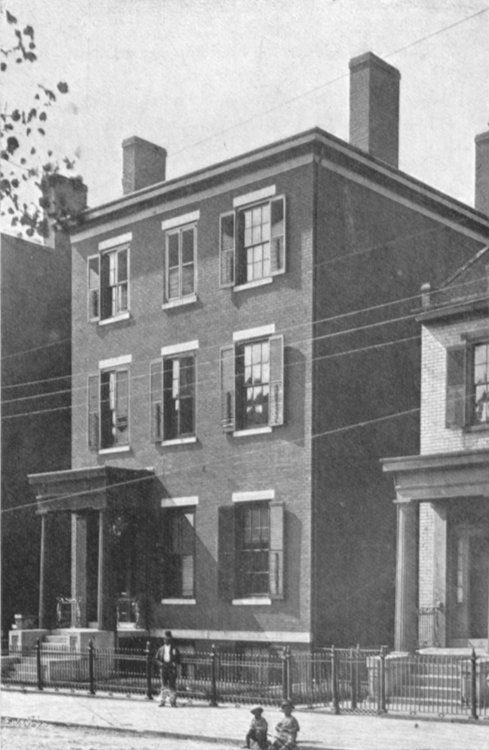 War-time residence of General Lee on Franklin Street, Richmond, Va.
Stonewall Jackson had, up to this point, made a triumphant success of one of the most hazardous strategic movements on record; but the very success of this movement placed him in a position of extreme peril. With his three divisions, numbering altogether barely twenty thousand men, he had to withstand Pope's entire army for two days, until Lee and Longstreet could come to his assistance over the same route by which he had descended upon Manassas, viâ Thoroughfare Gap, through the Bull Run Mountains.
By a supreme exercise of those wonderful characteristics of boldness, cunning, and fierce activity, which combined in him alone, Jackson was enabled, during those two momentous days of August 28th and 29th, to escape disaster and repulse every attack made upon his heroic corps. On the 28th, Pope sent McDowell with forty thousand troops to swoop down upon Manassas and "bag" Jackson; which no doubt he might have done if Jackson had stayed there until he came. But on this occasion Jackson suddenly disappeared "when least expected." He had cleared out during the night, crossed Bull Run, and concentrated his command in the vicinity of Sudley Mills, north of the Warrenton turnpike road. Here he was met by King's division of McDowell's corps, and a terrific engagement ensued, in which both sides 516 fought with stubborn courage till nightfall, and both lost heavily, the Federal command finally falling back to Manassas.
At this crisis General Pope appears to have been seized with that momentary mental paralysis which overtook other Federal commanders when confronted by Lee and Jackson. So completely was he engrossed with "Stonewall" that he committed the capital error of leaving unguarded the defile of Thoroughfare Gap, through which alone Lee and Longstreet could arrive to Jackson's aid on the battlefield of Manassas.
Pope having thus missed his chance of keeping the two Confederate commands apart, the advance of Longstreet's column arrived early in the day on the 29th, and connected with Jackson's right. The Federal attack of this day, however, was made principally with the centre and right against Jackson; the left, under Fitz-John Porter, remaining inactive in Longstreet's front. The next day the Federal assault was renewed, and again repulsed by Jackson. Finally, late in the afternoon, Longstreet ordered his whole line forward, and by the combined attack Pope's army was stampeded, and driven across Bull Run Creek in wild disorder and with immense loss.
Pope withdrew to Centreville, and occupied a position along the heights, where he was reinforced by the corps of Franklin and Sumner and the divisions of Cox and Sturgis, amounting respectively to twenty-five thousand and seventeen thousand men. Since leaving the Rappahannock, he had lost, in killed, wounded, and missing, about fifteen thousand men; yet still his force vastly outnumbered that of Lee. He had sufficient assurance to telegraph to Halleck, "The enemy is badly whipped, and we shall do well enough." Halleck replied, on the morning of the 31st: "You have done nobly. Do not yield another inch if you can avoid it. All reserves are being sent forward."
The next day, Lee's "badly whipped" army executed another flank movement, in charge of Jackson again, and struck Hooker's corps of the Federal army near Fairfax Court House. Here was fought the battle of Ox Hill or Chantilly, a tragic and fearful engagement, at close of day, in the midst of a summer's thunderstorm. It cost both sides heavily, the Federal losses including their two brave generals, Kearney and Stevens. Kearney, especially, was an officer of distinguished gallantry, marked for the command of an army. His dead body, together with his sword and horse, was sent back with honours to the Federal lines by General Lee.*
On September 2nd, the shattered "Army of Virginia" was withdrawn to Washington, and General Pope was relieved of his command. He had led against Lee a proud army, and let it with no mean ability; but he had been out-generalled at every point. The precipitate retreat into the intrenchments around Washington was indeed a second "Bull Run," and the panic raised in the Federal capital can hardly be exaggerated. General McClellan begged for reinstatement at the head of his old troops; but, according to his own account it was feared that even he could not keep back the victorious Confederates. Fredericksburg was evacuated; and President Lincoln called upon the Northern States for three hundred thousand more men.
Such were the results of General Lee's campaign work in the first three months of his command of the Army of Northern Virginia. He had "used up" two armies, 517 both numerically greater than his own, and deposed their commanders. He had raised the siege of Richmond, and threatened Washington. Second Manassas was Lee's Marengo. It secured him the control of the whole State of Virginia.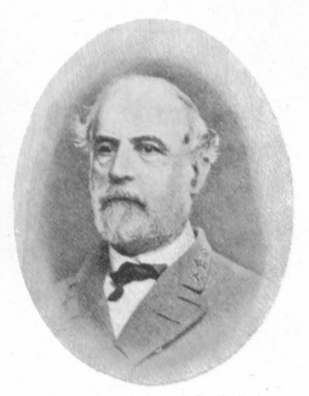 Portrait from General Curtis Lee's
private collection.
Without attempting to follow up and attack the combined armies of Pope and McClellan in their intrenchments on the Virginia bank of the Potomac, General Lee determined nevertheless to continue on the war path, and to fight another battle while the prestige of victory was on his side. Accordingly, he marched from the field of Manassas directly to Leesburg, near the Potomac, forty miles above Washington. There, on September 5th, he crossed the river and entered western Maryland, proceeding first to Frederick City (not to be confounded with Fredericksburg, Va.) He had been reinforced by the divisions of McLaws and D. H. Hill, with Hampton's cavalry, from Richmond: but if his army now numbered forty thousand effectives, the estimate is a liberal one, and their equipment was very far from corresponding with their fighting spirit. Some were actually barefooted; and all, from continuous marching and fighting, were rugged and gaunt. Their appearance did not inspire the Marylanders with sufficient confidence to ring about the rush of Southern-sympathising recruits to arms, which the Confederates had rather counted upon. Still, a decisive victory in that State, which would practically insure the fall of Baltimore and Washington, might very materially change the aspect of affairs.
As Lee had anticipated, the Federal authorities lost no time in sending an army after him; and this army was of necessity under command of General McClellan. Both McClellan and Halleck believed their opponent's force to be one hundred and twenty thousand, and they moved with extreme caution accordingly. One of their cardinal points of belief — or, at least, one of Halleck's — was that the natural rockbound citadel of Harper's Ferry, where the waters of the Shenandoah and the Potomac unite, and together make their way through the Blue Ridge, should be held at all hazards; and for this purpose a considerable force had been isolated there. With McClellan only five marches from him, Lee, on September 10th, sent the greater part of his army, under Jackson, to capture Martinsburg and Harper's Ferry, the latter being on the Virginia side of the Potomac, some ten or twelve miles south of Frederick City. He expected the invincible "Stonewall" to accomplish all this, and to get back in time to join him in confronting McClellan's army. And he was not disappointed. Jackson made thorough work of Harper's Ferry, capturing with that Federal stronghold twelve thousand prisoners, seventy-three pieces of artillery, thirteen thousand stands of small arms, and unlimited supplies of all kinds.
Meanwhile Lee had quitted Frederick, crossed the South Mountain by way of Boonsborough, and gone northward as far as Hagerstown; but on the 15th, the day of the surrender of Harpers Ferry, he turned back southward, and took up his position near Sharpsburg, on the right bank of Antietam Creek. The Confederate commander, who always counted upon McClellan's being slow in his movements, was at a loss to account for the remarkable activity now displayed by the latter, 518 who was clearly manœuvring to interpose between Lee at Hagerstown and Jackson at Harper's Ferry, and finish them separately. The truth of the matter was that McClellan, arriving at Frederick on the 12th, had fortuitously come into possession of the famous "lost" order of General Lee to D. H. Hill, completely disclosing the plans of the Confederates, including the Harper's Ferry raid.
General James Longstreet.
General McClellan, with the splendid Army of the Potomac, had come out from Washington to fight the battle of his life. Lee also had come to Maryland to fight; and instead of withdrawing his troops back across the Potomac again, as he might readily have done, he drew up his line of battle along Antietam Creek at Sharpsburg, and prepared to meet the enemy with odds as of three to one against him.
McClellan did not attack until the 17th. By that time, or before the day was over, Lee had all his forces up. They amounted in full count to 27,255 infantry, and 8,000 cavalry and artillery. In other words, Lee's total strength at Sharpsburg was 35,255. McClellan had 87,164 troops of all arms; but as the fighting on his side was done by four corps, numbering 57,614 men, Porter's and Franklin's corps and the cavalry not being engaged, — and as practically all of Lee's army except his cavalry fought, the real disparity between the active combatants was about 26,000 in favour of McClellan. Says General Fitz Lee: —
"The picture of the private soldier of Lee's army at Sharpsburg, as he stood in the iron hail, with the old, torn slouch hat, the bright eye glistening with excitement, powder-stained face, rent jacket, and torn trousers, blanket in shreds, and the prints of his shoeless feet in the dust of the battle, should be framed in the hearts of all who love true courage wherever found."
And the silhouette of the great Confederate leader, as he stood, calm and confident, on an elevated position about the centre of his slim grey battle-line, on the Boonsborough road, is preserved by a staff-officer: —
"His fine form was sharply outlined against the sky, and I thought I had never seen a nobler figure. He seemed quite unconscious that the enemy's shells were exploding around and beyond him."
Lee's line of battle, as has been said, extended along the right or western bank of Antietam Creek, between that stream and the village of Sharpsburg. In his rear, beyond the village, rolled the Potomac River, in a concave bend; so that while both his flanks rested upon it, the centre of the line was about three miles distant from its shore. McClellan's plan was to envelop the two Confederate flanks, beginning with the left, and gain the Williamsport road in Lee's rear, thus cutting him off from the Potomac. This plan was well conceived, but it failed in the execution, though not until McClellan had lost 20 per cent. of his troops in repeated and desperate assaults.
The battle on the 17th raged from dawn to dusk, with an intermission in the middle of the day. In the morning the Confederates' left, held by Jackson, was 519 assailed by the three Federal corps of Hooker, Mansfield, and Sumner, successively. They fought almost to annihilation, but their efforts to turn the flank were unavailing. In the afternoon Burnside had somewhat better success with the right, where he managed to cross the stone bridge with 15,000 men, and assaulted the ridge held by the Confederate General Jones. But at this critical juncture A. P. Hill arrived from Harper's Ferry, and saved Lee's right by helping to drive Burnside back to the bridge. The Confederate centre, in the meantime, was well looked after by Longstreet, with Miller's guns of the Washington artillery.
At one of the guns, in a silenced battery that had just been relieved from a perilous position, General Lee failed to recognise, among the grimy heroes who had been tending it, his own youngest son, Robert, at that time a private in the Rockbridge Artillery. Returning the gunners' greeting as he passed, the General said, "Well, you have done nobly, but I shall be compelled to send you in again." Young "Rob" spoke up with the rest in the eager response; and then his father, relieved at discovering his identity, added, "That's right, my son! You must help to keep these people back."
Night fell upon a drawn battle at Sharpsburg. Both sides held their lines essentially unbroken. According to the best Confederate authority, Lee's loss here was 8,000; or 10,000 in the whole Maryland campaign, including the fighting around Boonsborough; while McClellan lost in the great battle alone, 12,496 killed, wounded, and missing.
The next day, the 18th, Lee did not feel strong enough to renew the offensive, but he waited with confidence a renewed attack. It did not come. Accordingly, being aware that reinforcements for McClellan were at hand, Lee departed in the night, and withdrew to the Potomac. It was not until the 19th that McClellan thought he might "safely claim a victory." He made only the merest pretence of following up the Confederate retreat into Virginia; and in the early part of October allowed Stuart, with eighteen hundred men and four guns, to make another raid completely around the Federal army, across Maryland, and into southern Pennsylvania. This fatal lack of alertness aggravated the relations, already strained politically, between General McClellan and the Northern Government; and finally, on the 5th of November, 1862, he was permanently relieved from the command of the Army of the Potomac, to be succeeded therein by Major-General Ambrose E. Burnside.
Here ended the military career of the personally popular commander against whom General Lee had manœuvred with respectful caution, and whom he regarded as "the most intellectual of all the Federal generals." McClellan was always a gentleman, and sometimes a soldier; but he thought too much to act decisively, and seemed incapable of either feeling or imparting the inspiration of battle.
General Lee's two weeks' campaign in Maryland, if not altogether a failure, certainly fell far short of the mark of success which had been set for it both by himself and by the Confederate chief executive; and it demonstrated that his army, without means of reinforcement, was too small for offensive operations. Lee and Davis had already dreamed, after Manassas, of proposing from the head of the victorious Army of Northern Virginia an end to hostilities in the recognition by the United States of Southern independence.
In answer to the inquiries of a friend, General Lee wrote, after the war: —
"I will state that, in crossing the Potomac, I did not propose to invade the North, for I did not believe that the Army of Northern Virginia was strong enough for the purpose, nor was I in any degree influenced by popular expectation. My movement was simply intended to threaten Washington, call the Federal army north of that river, 520 relieve our territory, and enable us to subsist the army. I considered it useless to attack the fortifications around Alexandria and Washington, behind which the Federal army had taken refuge; and indeed I could not have maintained the army in Fairfax, so barren was it of subsistence, and so deficient were we in transportation. After reaching Frederick City, finding that the enemy still retained his positions at Martinsburg and Harper's Ferry, and that it became necessary to dislodge him in order to open our communication through the valley for the purpose of obtaining from Richmond the ammunition, clothing, etc., of which we were in great need, — after detaching the necessary troops for the purpose, I was left with but two divisions, Longstreet's and D. H. Hill's, to mask the operation. That was entirely too weak a force to march on Baltimore, even if such a movement had been expedient."
One day, in the last year of his life, General Lee showed to the Rev. Dr. Jones, his army chaplain and subsequent biographer, a letter from a New York editor, inquiring what battle it was in which General Lee asked of General McClellan a truce to bury his dead, and asked the chaplain if he remembered. Dr. Jones writes:
"Upon my replying that it was my very decided conviction that in all of his contests with General McClellan, the flag of truce had to come from the other side; that Sharpsburg was the only battle at which it could have occurred; and that there was no formal truce there, though a tacit understanding on a part of the line by which both parties gathered up their dead and wounded, he quietly replied, 'Yes, that is my impression. I remember distinctly that at Sharpsburg we held a large part of the battlefield, that we remained in line of battle the whole of the next day, expecting and in fact hoping for an attack, and that we only withdrew upon information that the enemy was being largely reinforced. But this gentleman writes to me (I wish he had written to General McClellan: he could have told him), and I desired, before answering him, to confirm my impression by that of others.' "
HENRY TYRRELL.
Lee at the soldiers' prayer-meeting.
* The horse, which had been captured, was not returned until some time after the battle. Then, at the request of Mrs. Kearney, the General's widow, General Lee caused a serach to be instituted; and when the horse was identified, General Lee gave his personal chequce to the Confederate quartermaster for the amount — a good horse was worth from $3000 to $4000, in Confederate money, in those days — at which the animal was appraised.
<><><><><><><><><><><>