˜˜˜˜˜˜˜˜˜˜˜˜˜˜˜˜
From Heart of Oak Books, Sixth Book; edited by Charles Eliot Norton, Revised Edition, Illustrated; Boston : D. C. Heath & Co.; 1910; pp. 36-37; 343-344.
36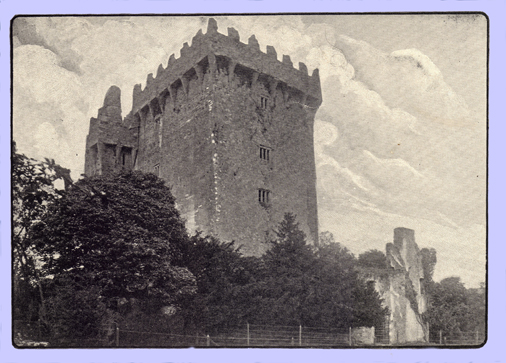 BLARNEY CASTLE
From a Photograph.
THE GROVES OF BLARNEY.1

Richard Alfred Milliken.
THE groves of Blarney, they look so charming,
Down by the purlings of sweet silent brooks,
All decked by posies that spontaneous grow there,
Planted in order in the rocky nooks.
'Tis there the daisy, and the sweet carnation,
The blooming pink, and the rose so fair;
Likewise the lily, and the daffodilly —
All flowers that scent the sweet open air.


'Tis Lady Jeffers owns this plantation;
Like Alexander, or like Helen fair,
There's no commander in all the nation,
For regulation can with her compare.
Such walls surround her, that no nine-ponder
Could ever plunder her place of strength;
But Oliver Cromwell, her he did pommell,
And made a breach in her battlement.


There is a cave where no daylight enters,
But bats and badgers are for ever bred;
And mossed by nature makes it completer
Than a coach-and-six, or a downy-bed.
'Tis there the lake is well stored with fishes,
And comely eels in the verdant mud;
Besides the leeches, and groves of beeches,
Standing in order to guard the flood.
37

There gravel walks are for recreation,
And meditation in sweet solitude.
'Tis there the lover may hear the dove, or
The gentle plover, in the afternoon;
And if a lady would be so engaging
As for to walk in those shady groves,
'Tis there the courtier might soon transport her
Into some fort, or the "sweet rock-close."


There are statues gracing this noble place in —
All heathen gods, and nymphs so fair;
Bold Neptune, Caesar, and Nebuchadnezzar,
All standing naked in the open air !
There is a boat on the lake to float on,
And lots of beauties which I can't entwine;
But were I a preacher, or a classic teacher,
In every feature I'd make 'em shine !


There is a stone there, that whoever kisses,
Oh ! he never misses to grow eloquent.
'Tis he may clamber to a lady's chamber,
Or become a member of parliament :
A clever spouter he'll sure turn out, or
An out-and-outer, "to be let alone,"
Don't hope to hinder him, or to bewilder him;
Sure he's a pilgrim from the Blarney stone !
Footnote
1 A burlesque upon a song, "Castle Hyde," long since forgotten.
[343]
NOTES
PAGE 36. — In the voluble Reliques of Father Prout, from which the text of the "Groves of Blarney" is taken, the following account (somewhat condensed) is given: "There stands on the borders of his parish, near the village of Blarney, an old castle of the M'Carthy family, rising abruptly from a bold cliff, at the foot of which rolls a not inconsiderable stream — the fond and frequent witness of Prout's angling propensities. 344 The well-wooded demesne, comprising an extensive lake, a romantic cavern, and an artificial wilderness of rocks, belongs to the family of Jeffereys. . . . But none of these natural curiosities has earned such notoriety for 'the Groves,' as a certain basaltic stone, endowed with the property of communicating to the happy tongue that comes in contact with it, the gift of gentle, insinuating speech, — soft talk, — Blarney." The approximate facts are, it appears, that in 1602, when the Spaniards were exciting our chieftains to harass the English authorities, Cormac M'Dermot Carthy held, among other dependencies, the castle of Blarney, and had concluded an armistice with the lord-president, on condition of surrendering this fort to an English garrison. Day after day did his lordship look for the fulfillment of the compact; while the Irish Pozzo di Borgo, as loath to part with his stronghold as Russia to relinquish the Dardanelles, kept protocolizing with soft promises and delusive delays, until at last Carew became the laughing-stock of Elizabeth's minister, and "Blarney talk" proverbial.
˜˜˜˜˜˜˜˜˜˜
Elf.Ed Note
For a brief history, more on the legend, the fame of this song written in the 18th century by a lawyer, and another old photo of Blarney Castle, see Blarney Castle by Mr. and Mrs. S. C. Hall, on this site.
Next :

Annabel Lee, by Edgar Allan Poe.
˜˜˜˜˜˜˜˜˜˜˜˜˜˜˜˜