qpqpqpqpqpqpqpqpqpqpqpqpqpqpqpqp
From The International Library of Masterpieces, Literature, Art, & Rare Manuscripts, Volume XXX, Editor-in-Chief: Harry Thurston Peck; The International Bibliophile Society, New York; 1901; pp. 11058-11075.
qpqpqpqpqpqpqpqp
11058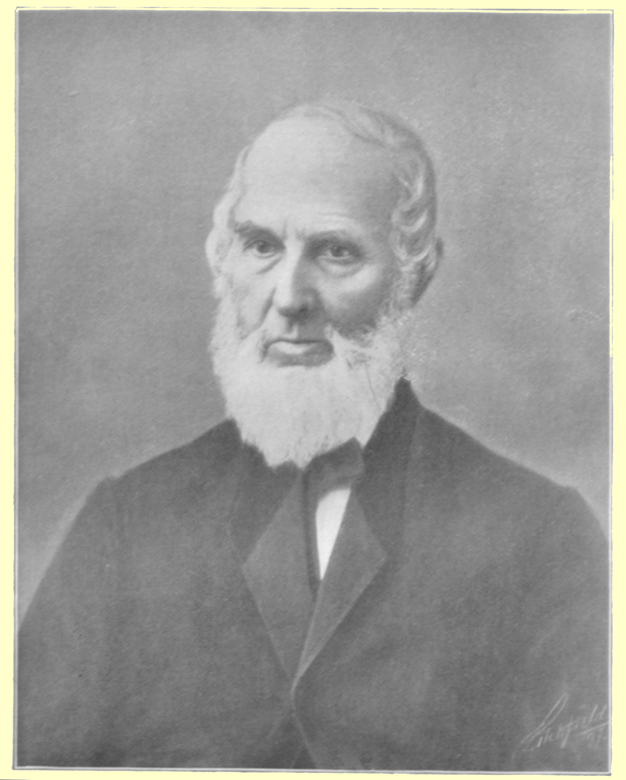 JOHN GREENLEAF WHITTIER
JOHN GREENLEAF WHITTIER.
(1807-1892)
WHITTIER, JOHN GREENLEAF, an American poet, born at Haverhill, Mass., December 17, 1807; died at Hampton Falls, N. H., September 7, 1892. Of Quaker parentage, he always remained a member of the Society of Friends. Up to his eighteenth year he worked on the farm; then attended an academy for two years, writing occasional verses for the local newspaper, and in 1829 became editor of the "American Manufacturer," at Boston. In 1830 he became editor of the "Connecticut Mirror," at Hartford. In 1836 he was elected Secretary of the newly formed American Anti-Slavery Society, and became editor of the "Pennsylvania Freeman," at Philadelphia. In 1840 he took up his permanent residence at Amesbury, Mass. The principal of the longer poems are: "Legends of New England" (1831); "Mogg Megone" (1836); "The Bridal of Pennacook" (1837); "Snow-Bound" (1865); "The Tent on the Beach" (1867); "Among the Hills" (1868); "The Vision of Echard" (1877). The smaller poems, something like four hundred in number, constituting the greater portion of the whole, have been arranged by the author under several heads, among which are: Legendary," "Voices of Freedom," "Voices of Labor," "Home Ballads," "Poems and Lyrics," and "Miscellaneous." Several volumes made up of his various prose writings have been published. The principle of these are: "Old Portraits and Modern Sketches" (1850); and "Literary Recreations and Miscellanies" (1854). The later productions of Whittier include "The King's Missive" (1881); "Bay of Seven Islands" (1883); "Poems of Nature" (1886); "St. Gregory's Guest" (1886); "At Sundown" (1892). His complete works up to that date were published in 1888-89.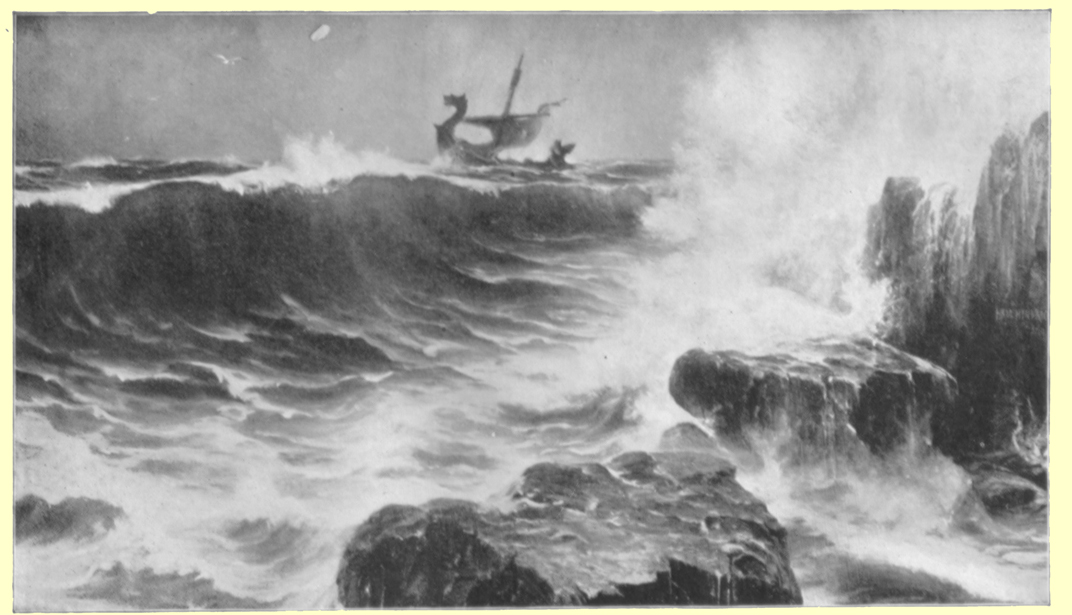 THE NORSEMEN.
"Wild Jutland's wives, and Lochlin's daughters
Have watched them fading o'er the waves."
From a Painting by H. Hendrick
T
HE

N

ORSEMEN

. 1





GIFT from the cold and silent Past!
A relic to the present cast;
Left on the ever-changing strand
Of shifting and unstable sand,
Which wastes beneath the steady chime
And beating of the waves of Time!
11059 Who from its bed of primal rock
First wrenched thy dark, unshapely block?
Whose hand, of curious skill untaught,
Thy rude and savage outline wrought?


The waters of my native stream
Are glancing in the sun's warm beam:
From sail-urged keel and flashing oar
The circles widen to its shore;
And cultured field and peopled town
Slope to its willowed margin down.
Yet, while this morning breeze is bringing
The mellow sound of church-bells ringing,
And rolling wheel, and rapid jar
Of the fire-winged and steedless car,
And voices from the wayside near
Come quick and blended on my ear,
A spell is in this old gray stone —
My thoughts are with the Past alone!
A change! — The steepled town no more
Stretches along the sail-thronged shore;
Like palace-domes in sunset's cloud,
Fade sun-gilt spire and mansion proud:
Spectrally rising where they stood,
I see the old, primeval wood;
Dark, shadow-like, on either hand
I see its solemn waste expand:
It climbs the green and cultured hill,
It arches o'er the valley's rill;
And leans from cliff and crag, to throw
Its wild arms o'er the stream below.
Unchanged, alone, the same bright river
Flows on, as it will flow forever!
I listen, and I hear the low
Soft ripple where its waters go;
I hear behind the panther's cry,
The wild bird's scream goes thrilling by,
And shyly on the river's brink
The deer is stooping down to drink.


But hark — from wood and rock flung back,
What sound comes up the Merrimac?
What sea-worn barks are those which throw
The light spray from each rushing prow?
Have they not in the North Sea's blast
Bowed to the waves the straining mast?
11060 Their frozen sails the low, pale sun
Of Thulè's night has shone upon;
Flapped by the sea-wind's gusty sweep
Round icy drift, and headland steep.
Wild Jutland's wives and Lochlin's daughters
Have watched the fading o'er the waters,
Lessening through driving mist and spray,
Like white-winged sea-birds on their way!
Onward they glide — and now I view
Their iron-armed and stalwart crew;
Joy glistens in each wild blue eye,
Turned to green earth and summer sky:
Each broad, seamed breast has cast aside
Its cumbering vest of shaggy hide;
Bared to the sun and soft warm air,
Streams back the Norsemen's yellow hair.
I see the gleam of axe and spear,
The sound of smitten shields I hear,
Keeping a harsh and fitting time
To Saga's chant, and Runic rhyme;
Such lays as Zetland's Skald has sung,
His gray and naked isles among;
Or muttered low at midnight hour
Round Odin's mossy stone of power.
The wolf beneath the Arctic moon
Has answered to that startling rune;
The Gael has heard its stormy swell,
The light rank knows its summons well;
Iona's sable-stoled Culdee
Has heard it sounding o'er the sea,
And swept with hoary beard and hair
His altar's foot in trembling prayer!


'T is past — the 'wildering vision dies
In darkness on my dreaming eyes!
The forest vanishes in air —
Hill-slope and vale lie starkly bare;
I hear the common tread of men,
And hum of work-day life again:
The mystic relic seems alone
A broken mass of common stone;
And if it be the chiselled limb
Of Berserker or idol grim —
A fragment of Valhalla's Thor,
The stormy Viking's god of War,
11060 Or Praga of the Runic lay,
Or love awakening Siona,
I know not — for no graven line,
Nor Druid mark, nor Runic sign,
Is left me here, by which to trace
Its name, or origin, or place.


Yet, for this vision of the Past,
This glance upon its darkness cast,
My spirit bows in gratitude
Before the Giver of all good,
Who fashioned so the human mind,
That, from the waste of Time behind
A simple stone, or mound of earth,
Can summon the departed forth;
Quicken the Past to life again —
The Present lose in what hath been,
And in their primal freshness show
The buried forms of long ago.
As if a portion of that Thought
By which the Eternal will is wrought,
Whose impulse fills anew with breath
The frozen solitude of Death,
To mortal minds were sometimes lent,
To mortal musings sometimes sent,
To whisper — even when it seems
But Memory's phantasy of dreams —
Through the mind's waste of woe and sin,
Of an immortal origin!

qpqpqpqpqpqpqpqpqpqpqpqpqpqpqp
qpqpqpqpqpqpqpqpqpqpqp
qpqpqp

1 By permission of Houghton, Mifflin, & Co.

qpqpqpqpqpqpqpqpqpqpqp

* Thulè's. The various editions punctuate this e variously. Sometimes as ë, or é, or without an accent at all. — Elf.Ed.

qpqpqpqpqpqpqpqpqpqpqpqpqpqpqp
qpqpqpqpqpqpqpqpqpqpqp
qpqpqp
T
HE

E

XILES

.





THE goodman sat beside his door
One sultry afternoon,
With his young wife singing at his side
An old and goodly tune.

A glimmer of heat was in the air —
The dark green woods were still;
And the skirts of a heavy thunder-cloud
Hung over the western hill.

Black, thick, and vast, arose that cloud
Above the wilderness,
As some dark world from upper air
Were stooping over this.
11062
At times, the solemn thunder pealed,
And all was still again,
Save a low murmur in the air
Of coming wind and rain.

Just as the first big rain-drop fell,
A weary stranger came,
And stood before the farmer's door,
With travel soiled and lame.

Sad seemed he, yet sustaining hope
Was in his quiet glance,
And peace, like autumn's moonlight, clothed
His tranquil countenance.

A look, like that his Master wore
In Pilate's council-hall:
It told of wrongs — but of a love
Meekly forgiving all.

"Friend! wilt thou give me shelter here?"
The stranger meekly said;
And, leaning on his oaken staff,
The goodman's features read.

"My life is hunted — evil men
Are following in my track;
The traces of the torturer's whip
Are on my aged back.

"And much, I fear, 't will peril thee
Within thy doors to take
A hunted seeker of the Truth,
Oppressed for conscience' sake."

Oh, kindly spoke the goodman's wife —
"Come in, old man!" quoth she, —
"We will not leave thee to the storm,
Whoever thou may'st be."

Then came the aged wanderer in,
And silent sat him down;
While all within grew dark as night
Beneath the storm-cloud's frown.

But while the sudden lightning's blaze
Filled every cottage nook,
And with the jarring thunder-roll
The loosened casement shook,
11063
A heavy tramp of horses' feet
Came sounding up the lane,
And half a score of horse, or more,
Came plunging through the rain.

"Now, Goodman Macy, ope thy door, —
We would not be house-breakers;
A rueful deed thou 'st done this day,
In harboring banished Quakers."

Out looked the cautious goodman then,
With much of fear and awe,
For there, with broad wig drenched with rain,
The parish priest he saw.

"Open thy door, thou wicked man,
And let thy pastor in,
And give God thanks, if forty stripes
Repay thy deadly sin."

"What seek ye?" quoth the goodman, —
"The stranger is my guest;
He is worn with toil and grievous wrong, —
Pray let the old man rest."

"Now, out upon thee, canting knave!"
And strong hands shook the door,
"Believe me, Macy," quoth the priest, —
"Thou 'lt rue thy conduct sore."

Then kindled Macy's eye of fire:
"No priest who walks the earth,
Shall pluck away the stranger-guest
Made welcome to my hearth."

Down from his cottage wall he caught
The matchlock, hotly tried
At Preston-pans and Marston-moor,
By fiery Ireton's side;

Where Puritan, and Cavalier,
With shout and psalm contended;
And Rupert's oath, and Cromwell's prayer,
With battle-thunder blended.

Up rose the ancient stranger then:
"My spirit is not free
To bring the wrath and violence
Of evil men on thee:
11064
"And for thyself, I pray forbear, —
Bethink thee of thy Lord,
Who healed again the smitten ear
And sheathed his follower's sword.

"I go, as to the slaughter led:
"Friends of the poor, farewell!"
Beneath his hand the oaken door
Back on its hinges fell.

"Come forth, old gray-beard, yea and nay;"
The reckless scoffers cried,
As to a horseman's saddle-bow
The old man's arms were tied.

And of his bondage hard and long
In Boston's crowded jail,
Where suffering woman's prayer was heard,
With sickening childhood's wail,

It suits not with our tale to tell:
Those scenes have passed away —
Let the dim shadows of the past
Brood o'er that evil day.

"Ho, sheriff!" quoth the ardent priest —
"Take goodman Macy too;
The sin of this day's heresy,
His back or purse shall rue."

And priest and sheriff, both together
Upon his threshold stood,
When Macy, through another door,
Sprang out into the wood.

"Now, goodwife, haste thee!" Macy cried,
She caught his manly arm: —
Behind, the parson urged pursuit,
With outcry and alarm.

Ho! speed the Macys, neck or naught, —
The river course was near: —
The plashing on its pebbled shore
Was music to their ear.

A gray rock, tasselled o'er with birch,
Above the waters hung,
And at its base, with every wave,
A small light wherry swung.
11065
A leap — they gain the boat — and there
The goodman wields his oar:
"Ill luck betide them all," — he cried, —
"The laggards upon the shore."

Down through the crashing under-wood,
The burly sheriff came: —
"Stand, Goodman Macy — yield thyself;
Yield in the King's own name."

"Now out upon thy hangman's face!"
Bold Macy answered then, —
"Whip women, on the village green,
But meddle not with men."

The priest came panting to the shore, —
His grave cocked hat was gone;
Behind him, like some owl's nest, hung
His wig upon a thorn.

"Come back — come back!" the parson cried,
"The church's curse beware."
"Curse an thou wilt," said Mac, "but
Thy blessing prithee spare."

"Vile scoffer!" cried the baffled priest, —
"Thou 'lt yet the gallows see."
"Who 's born to be hanged, will not be drowned,"
Quoth Macy merrily;

"And so, sir sheriff and priest, good-bye!"
He bent him to his oar,
And the small boat glided quietly
From the twain upon the shore.

Now in the west, the heavy clouds
Scattered and fell asunder,
While feebler came the rush of rain,
And fainter growled the thunder.

And through the broken clouds, the sun
Looked out serene and warm,
Painting its holy symbol-light
Upon the passing storm.

Oh, beautiful! that rainbow span,
O'er dim Crane-neck was bended; —
One bright foot touched the eastern hills,
And one with ocean blended.
11066
By green Pentucket's southern slope
The small boat glided fast, —
The watchers of "the Block-house" saw
The strangers as they passed.

That night a stalwart garrison
Sat shaking in their shoes,
To hear the dip of Indian oars, —
The glide of birch canoes.

The fisher-wives of Salisbury,
(The men were all away),
Looked out to see the stranger oar
Upon their waters play.

Deer-Island's rocks and fir-trees threw
Their sunset-shadows o'er them,
And Newbury's spire and weathercock
Peered o'er the pines before them.

Around the Black Rocks, on their left,
The marsh lay broad and green;
And on their right, with dwarf shrubs crowned,
Plum Island's hills were seen.

With skilful hand and wary eye
The harbor-bar was crossed; —
A plaything of the restless wave,
The boat on ocean tossed.

The glory of the sunset heaven
On land and water lay, —
On the steep hills of Agawam,
On cape, and bluff, and bay.

They passed the gray rocks of Cape Ann,
And Gloucester's harbor-bar;
The watch-fire of the garrison
Shone like a setting star.

How brightly broke the morning
On Massachusett's Bay!
Blue wave, and green island,
Rejoicing in the day.

On passed the bark in safety
Round isle and headland steep —
No tempest broke above them,
No fog-cloud veiled the deep.
11067
Far round the bleak and stormy Cape
The vent'rous Macy passed,
And on Nantucket's naked isle,
Drew up his boat at last.

And how, in log-built cabin,
They braved the rough sea-weather;
And there, in peace and quietness,
Went down life's vale together:

How others drew around them,
And how their fishing sped,
Until to every wind of heaven
Nantucket's sails were spread:

How pale Want alternated
With Plenty's golden smile;
Behold, is it not written
In the annals of the isle?

And yet that isle remaineth
A refuge of the free,
As when true-hearted Macy
Beheld it from the sea.

Free as the winds that winnow
Her shrubless hills of sand —
Free as the waves that batter
Along her yielding land.

Than hers, at duty's summons,
No loftier spirit stirs, —
Nor falls o'er human suffering
A readier tear than hers.

God bless the sea-beat island! —
And grant for evermore,
That charity and freedom dwell,
As now upon her shore!

qpqpqpqpqpqpqpqpqpqpqpqpqpqpqp
qpqpqpqpqpqpqpqpqpqpqp
qpqpqp
T
HE

Y

ANKEE

G

IRL

.





SHE sings by her wheel, at that low cottage-door,
Which the long evening shadow is stretching before,
With a music as sweet as the music which seems
Breathed softly and faint in the ear of our dreams!
11068
How brilliant and mirthful the light of her eye,
Like a star glancing out from the blue of the sky!
And lightly and freely her dark tresses play
O'er a brow and a bosom as lovely as they!

Who comes in his pride to that low cottage-door —
The haughty and rich to the humble and poor?
'T is the great Southern planter — the master who waves
His whip of dominion o'er hundreds of slaves.

"Nay, Ellen — for shame! Yet those Yankee fools spin,
Who would pass for our slaves with a change of their skin;
Let them toil as they will at the loom or the wheel,
Too stupid for shame, and too vulgar to feel!

"But thou art too lovely and precious a gem
To be bound to their burdens and sullied by them —
For shame, Ellen, shame! — cast thy bondage aside,
And away to the South, as my blessing and pride.

"Oh, come where no winter thy footsteps can wrong,
But where flowers are blossoming all the year long,
Where the shade of the palm-tree is over my home,
And the lemon and orange are white in their bloom!

"Oh, come to my home, where my servants shall all
Depart at thy bidding and come at thy call;
They shall heed thee as mistress with trembling and awe,
and each wish of thy heart shall be felt as a law."

Oh, could ye have seen her — that pride of our girls —
Arise and cast back the dark wealth of her curls,
With a scorn in her eye which the gazer could feel,
And a glance like the sunshine that flashes on steel!

"Go back, haughty Southron! thy treasures of gold
Are dim with the blood of the hearts thou hast sold;
Thy home may be lovely, but round it I hear
The crack of the whip and the footsteps of fear!

"And the sky of thy south may be brighter than ours,
And greener thy landscapes, and fairer thy flowers;
But, dearer the blast round our mountain which raves,
Than the sweet summer zephyr which breathes over slaves!

"Full low at thy bidding thy negroes may kneel,
With the iron of bondage on spirit and heel;
Yet know that the Yankee girl sooner would be
In fetters with them, than in freedom with thee!"

qpqpqpqpqpqpqpqpqpqpqpqpqpqpqp
qpqpqpqpqpqpqpqpqpqpqp
qpqpqp

11069
T
HE

P

INE

T

REE

.





LIFT again the stately emblem on the Bay State's rusted shield,
Give to Northern winds the Pine Tree on our banner's tattered
field,
Sons of men who sat in council with their Bibles round the board,
Answering England's royal missive with a firm, "THUS SAITH THE
LORD!"
Rise again for home and freedom! — set the battle in array! —
What the fathers did of old time we their sons must do to-day.

Tell us not of banks and tariffs — cease your paltry pedlar cries;
Shall the good State sink her honor that our gambling stocks may
rise?
Would ye barter man for cotton? — That your gains may be the
same,
Must we kiss the feet of Moloch, pass our children through the
flame?
Is the dollar only real? — God and truth and right a dream?
Weighed against your lying ledgers must our manhood kick the
beam?

Oh, my God! — for that free spirit, which of old in Boston town
Smote the Province House with terror, struck the crest of Andros
down! —
For another strong-voiced Adams in the city's streets to cry:
"Up for God and Massachusetts! — Set your feet on Mammon's
lie!
Perish banks and perish traffic — spin your cotton's latest pound —
But in Heaven's name keep your honor — keep the heart o' the
Bay State sound!"

Where's the MAN for Massachusetts? — Where's the voice to speak
her free? —
Where's the hand to light up bonfires from her mountains to the
sea?
Beats her Pilgrim pulse no longer? — Sits she dumb in her
despair? —
Has she none to break the silence? — Has she none to do and dare?
Oh my God! for one right worthy to lift up her rusted shield,
And to plant again the Pine Tree in her banner's tattered field!

qpqpqpqpqpqpqpqpqpqpqpqpqpqpqp
qpqpqpqpqpqpqpqpqpqpqp
qpqpqp

11070
R
ANDOLPH OF

R

OANOKE

.





OH, Mother Earth! upon thy lap
Thy weary ones receiving,
And o'er them, silent as a dream,
Thy grassy mantle weaving,
Fold softly in thy long embrace
That heart so worn and broken,
And cool its pulse of fire beneath
Thy shadows old and oaken.

Shut out from him the bitter word
And serpent hiss of scorning;
Nor let the storms of yesterday
Disturb his quiet morning.
Breathe over him forgetfulness
Of all save deeds of kindness,
And, save to smiles of grateful eyes,
Press down his lids in blindness.

There, where with living ear and eye
He heard Potomac's flowing,
And, through his tall ancestral trees,
Saw Autumn's sunset glowing,
He sleeps — still looking to the west,
Beneath the dark wood shadow,
As if he still would see the sun
Sink down on wave and meadow.

Bard, Sage, and Tribune! — in himself
All moods of mind contrasting —
The tenderest wail of human woe,
The scorn like lightning blasting;
The pathos which from rival eyes
Unwilling tears could summon,
The stinging taunt, the fiery burst
Of hatred scarcely human!

Mirth, sparkling like a diamond shower,
From lips of life-long sadness;
Clear picturings of majestic thought
Upon a ground of madness;
And over all Romance and Song
A classic beauty throwing,
And laurelled Clio at his side
Her storied pages showing.
11071
All parties feared him: each in turn
Beheld its schemes disjointed,
As right or left his fatal glance
And spectral finger pointed.
Sworn foe of Cant, he smote it down
With trenchant wit unsparing,
And, mocking, rent with ruthless hand
The robe Pretence was wearing.

Too honest or too proud to feign
A love he never cherished,
Beyond Virginia's border line
His patriotism perished.
While others hailed in distant skies
Our eagle's dusky pinion,
He only saw the mountain bird
Stoop o'er his Old Dominion!

Still through each change of fortune strange,
Racked nerve, and brain all burning,
His loving faith in Mother-land
Knew never shade of turning;
By Britain's lakes, by Neva's wave,
Whatever sky was o'er him,
He heard her rivers' rushing sound,
Her blue peaks rose before him.

He held his slaves, yet made withal
No false and vain pretences,
Nor paid a lying priest to seek
For scriptural defences.
His harshest words of proud rebuke,
His bitterest taunt and scorning,
Fell fire-like on the Northern brow
That bent to him in fawning.

He held his slaves: yet kept the while
His reverence for the Human;
In the dark vassals of his will
He saw but Man and Woman!
No hunter of God's outraged poor
His Roanoke valley entered;
No trader in the souls of men
Across his threshold ventured.

And when the old and wearied man
Laid down for his last sleeping,
11072 And at his side, a slave no more,
His brother man stood weeping,
His latest thought, his latest breath,
To Freedom's duty giving,
With failing tongue and trembling hand
The dying blest the living.

Oh! never bore his ancient State
A truer son or braver!
None trampling with a calmer scorn
On foreign hate or favor.
He knew her faults, yet never stooped
His proud and manly feeling
To poor excuses of the wrong
Or meanness of concealing.

But none beheld with clearer eye
The plague-spot o'er her spreading,
None heard more sure the steps of Doom
Along her future treading.
For her as for himself he spake,
When, his gaunt frame upbracing,
He traced with dying hand "REMORSE!"
And perished in the tracing.

As from the grave where Henry sleeps,
From Vernon's weeping willow,
And from the grassy pall which hides
The Sage of Monticello,
So from the leaf-strewn burial-stone
O Randolph's lowly dwelling,
Virginia! o'er thy land of slaves
A warning voice is swelling!

And hark! from thy deserted fields
Are sadder warnings spoken,
From quenched hearths, where thy exiled sons
Their household gods have broken.
The curse is on thee — wolves for men,
And briars for corn-sheaves giving!
Oh! more than all thy dead renown
Were now one hero living!

qpqpqpqpqpqpqpqpqpqpqpqpqpqpqp
qpqpqpqpqpqpqpqpqpqpqp
qpqpqp

11073
H
AMPTON

B

EACH

.





THE sunlight glitters keen and bright,
Where, miles away,
Lies stretching to my dazzled sight
A luminous belt, a misty light,
Beyond the dark pine bluffs and wastes of sandy gray.

The tremulous shadow of the Sea!
Against its ground
Of silvery light, rock, hill, and tree,
Still as a picture, clear and free,
With varying outline mark the coast for miles around.

On — on — we tread with loose-flung rein
Our seaward way,
Through dark-green fields and blossoming grain,
Where the wild brier-rose skirts the lane,
And bends above our heads the flowering locust spray.

Ha! like a kind hand on my brow
Comes this fresh breeze,
Cooling its dull and feverish glow,
While through my being seems to flow
The breath of a new life — the healing of the seas!

Now rest we, where this grassy mound
His feet hath set
In the great waters, which have bound
His granite ankles greenly round
With long and tangled moss, and weeds with cool spray wet.

Good-by to Pain and Care! I take
Mine ease to-day;
Here where these sunny waters break,
And ripples this keen breeze, I shake
All burdens from the heart, all weary thoughts away.

I draw a freer breath — I seem
Like all I see —
Waves in the sun — the white-winged gleam
Of sea-birds in the slanting beam —
And far-off sails which flit before the south wind free.

So when Time's veil shall fall asunder,
The soul may know
11074 No fearful change, nor sudden wonder,
Nor sink the weight of mystery under.
But with the upward rise, and with the vastness grow.

And all we shrink from now may seem
No new revealing;
Familiar as our childhood's stream
Or pleasant memory of a dream,
The loved and cherished Past upon the new life stealing.

Serene and mild the untried light
May have its dawning;
And, as in summer's northern night
The evening and the dawn unite,
The sunset hues of Time blend with the soul's new morning.

I sit alone: in foam and spray
Wave after wave
Breaks on the rocks which, stern and gray,
Shoulder the broken tide away,
Or murmurs hoarse and strong through mossy cleft and cave.

What heed I of the dusty land
And noisy town?
I see the mighty deep expand
From its white line of glimmering sand
To where the blue of heaven on bluer waves shuts down!

In listless quietude of mind,
I yield to all
The change of cloud and wave and wind,
And passive on the flood reclined,
I wander with the waves, and with them rise and fall.

But look, thou dreamer! — wave and shore
In shadow lie;
The night-wind warns me back once more
To where my native hill-tops o'er
Bends like an arch of fire the glowing sunset sky!

So then, beach, bluff, and wave, farewell!
I bear with me
No token stone nor glittering shell,
But long and oft shall Memory tell
Of this brief thoughtful hour of musing by the Sea.

qpqpqpqpqpqpqpqpqpqpqpqpqpqpqp
qpqpqpqpqpqpqpqpqpqpqp
qpqpqp

11075
I
CHABOD

!





SO fallen! so lost! the light withdrawn
Which once he wore!
The glory from his gray hairs gone
Forevermore!

Revile him not — the Tempter hath
A snare for all;
And pitying tears, not scorn and wrath,
Befit his fall!

Oh, dumb be passion's stormy rage,
When he who might
Have lighted up and led his age,
Falls back in night.

Scorn! would the angels laugh, to mark
A bright soul driven,
Fiend-goaded, down the endless dark,
From hope and heaven?

Let not the land, once proud of him,
Insult him now,
Nor band with deeper shame his dim,
Dishonored brow.

But let its humbled sons, instead,
From sea to lake,
A long lament, as for the dead,
In sadness make.

Of all we loved and honored, naught
Save power remains —
A fallen angel's pride of thought,
Still strong in chains.

All else is gone; from those great eyes
The soul has fled:
When faith is lost, when honor dies,
The man is dead!

Then, pay the reverence of old days
To his dead fame;
Walk backward, with averted gaze,
And hide the shame!










qpqpqpqpqpqpqpqpqpqpqpqpqpqpqpqp