~~~~~~~~~~~~~~~~~~~~~
From The Inns of Greece & Rome, and a history of Hospitality from the Dawn of Time to the Middle Ages, by W. C. Firebaugh, with an Introduction by Wallace Rice and Illustrations by Norman Lindsay, Chicago: Pascal Covici; 1928; pp. i-ix.
[front-papers]
[i]
THE INNS OF GREECE AND ROME
[frontispiece]
SEEKING A TAVERN.
[ii]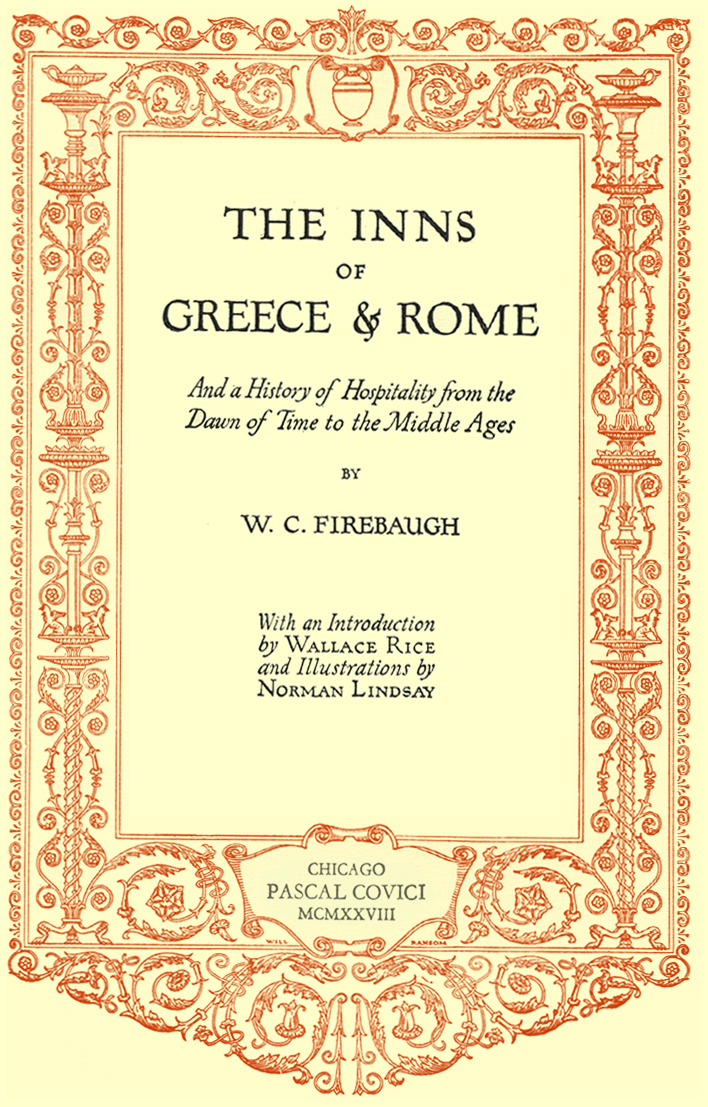 [iii]
COPYRIGHT, 1923,
FRANK M. MORRIS

COPYRIGHT, 1928,
PASCAL COVICI, PUB. INC.
PRINTED IN THE UNITED STATES OF AMERICA
[iv]
ILLUSTRATIONS
CLICK ON THE DESCRIPTION OR PAGE NUMBER, AND YOU WILL GO TO THAT PICTURE, IN A NEW BROWSER WINDOW.
PAGE
[v]
[blank]
vi
Surely there is fitness in having a man born and reared in the best hotels of his time, of which his father was proprietor, write a brief introduction to this interesting account of the best, and worst, inns of antiquity. For to most of us life outside the home, whether stately or humble, is an abnormal and too often a subnormal state of being, fully met when the only home one has known in early life is itself an inn.
Reading of the hostelries of Greece and Rome as disclosed in the classic and post-classic writings of these lands, where the good old tradition of hospitality was often so grossly abused, one is left to wonder if it was not after all the exception that secured attention, if the honest keeper of the clean tavern, with its warmest welcome and savory food, was not in all ages performing his pious duty to his guests, simply and unostentatiously and unmentioned, while his ill favored competitor with his tricks of misrepresentation, adulteration, and secret theft caught the attention of poet and prose writer, who justly found him guilty of an inhumanity which stands forth as a sacrilege to the race.
For giving shelter from the storm, drink to the thirsty, and food to the hungry has been at all times and places a fundamental duty; and men, however unable to attain their own ideals whether simple or lofty, have always been dutiful. The debt owed by host to guest was sacred and until lately has so remained in all stages of society, even those of savagery in which the stranger is perforce an enemy. Means of securing not mere immunity from plunder and attack but all the rites of hospitality have [vii] been noted by travellers in every continent where taverns had not yet been demanded by the numbers of sojourners. The sacredness of the wanderer's goods and person has been willingly conceded, even to the formation of a permanent bond between the provider of bread and salt and him who partakes thereof. May we not rightly assume, therefore, that even when the inns of antiquity are shown at their worst there were still countless hosts, respecters of the gods and worshipful of the rites of guestship, who welcomed the coming, rejoiced the staying, and sent good luck with the parting guest?
But in modern days a more subtle danger threatens the ancient spirit, however maintained through the ages. The devil of industrialism has invaded the hotel, and even the revival of the roadside tavern in response to motor travel has been contaminated by the desire to make money first and allow the guest's comfort and pleasure to become a mere secondary consideration.
Here I recall my father's sitting in the corridor down which his guests must depart, his spacious pockets filled with little flasks of choice liquor, with his own hands bestowing these upon the men who slept under his roof, not as an advertisement, not to secure their return thereto, but because they had enabled him to discharge a duty blest by the gods, for which he was duly thankful.
Happy picture of a bygone age in these United States, and happy memory of a good man, best perhaps because so genial a host, now gone to his reward a long generation ago, having preserved into our own time the good and ancient tradition so vividly set forth in this entertaining volume.
WALLACE RICE.*
[viii]
[blank]
[ix]
[blank]
Elf.Ed Notes.
* Wallace Rice was an American writer and comedic poet. See two examples on this site: A Rule of Three, and Myopia.
~~~~~~~~~~~~~~~~~~~~~