[Click on the footnote symbols and you will jump to the note on the bottom on the page. Then click on the symbol there and you will be magically transported back to where you were in the text.]
****************
From Romantic Castles and Palaces, As Seen and Described by Famous Writers, edited and translated by Esther Singleton; New York: Dodd, Mead & Company, 1901; pp. 190-199.
[190]
Whitehall Palace
LEIGH HUNT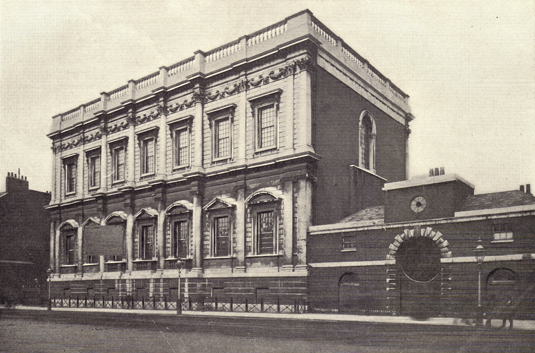 WHITEHALL PALACE, ENGLAND.
THE whole district containing all that collection of streets and houses, which extends from Scotland Yard to Parliament Street, and from the river side, with its wharfs, to St. James's Park, and which is still known by the general appellation of Whitehall, was formerly occupied by a sumptuous palace and its appurtenances, the only relics of which, perhaps the noblest specimen, is the beautiful edifice built by Inigo Jones, and retaining its old name of the Banqueting-House.
As this palace was the abode of a series of English sovereigns, beginning with Henry the Eighth, who took it from Wolsey, and terminating with James the Second, on whose downfall it was destroyed by fire, we are now in the very thick of the air of royalty.
The site of Whitehall was originally occupied by a mansion built by Hubert de Burgh, Earl of Kent and Chief Justice of England in the reign of Henry the Third, one of the ancestors of the present Marquess of Clanricarde.* De Burgh bequeathed it to the brotherhood of the Black Friars, near "Oldbourne," in whose church he was buried; the Brotherhood sold it to Walter Grey, Archbishop of York, who left it to his successors in that see as the archiepiscopal residence, which procured it the name of 191 York Place; and under that name, two centuries and a half afterwards, it became celebrated for the pomp and splendour of the "full-blown" priest, Wolsey, the magnificent butcher's son. Wolsey, on highly probable evidence, is thought to have so improved and enlarged the mansion of his predecessors, as to have in a manner rebuilt it, and given it its first royalty of aspect: but, as we shall see by and by, it was not called Whitehall, nor occupied anything like the space it did afterwards, till its seizure by the Cardinal's master.
On the Cardinal's downfall, Henry seized his house and goods, and converted York Place into a royal residence, under the title of Westminster Place, then, for the first time, called also Whitehall.
"It is not impossible," says Mr. Brayley (Londiniana Vol. II., p. 27), "that the Whitehall, properly so-called, was erected by Wolsey, and obtained its name from the newness and freshness of its appearance, when compared with the ancient buildings of York Place. Shakespeare in his play of King Henry VIII., makes one of the interlocutors say, in describing the coronation of Queen Anne Boleyn: —
'So she parted,
And with the same full state paced back again
To York Place, where the feast is held.'
To this is replied —
'Sir, you
Must no more call it York Place — that is past.
For since the Cardinal fell, that title's lost.
'Tis now the King's, and called Whitehall.' "
It was in Whitehall that Henry made his ill-assorted 192 marriage with Anne Boleyn; Dr. Lingard says in a "garret"; Stowe says in the royal "closet." It is likely enough that the ceremony was hurried and sudden; — a fit of will, perhaps, during his wine; and if the closet was not ready, the garret was. The clergyman who officiated was shortly afterwards made a bishop.
Henry died in Whitehall; so fat, that he was lifted in and out his chamber and sitting-room by means of machinery.
"He was "somewhat gross, or, as we tearme it, bourlie," says time-serving Holinshed.
He laboured under the burden of an extreme fit and unwieldy body," says noble Herbert of Cherbury.
It was under this Prince (as already noticed) that the palace of the Archbishop of York first became the "King's Palace at Westminster," and expanded into that mass of houses which stretched to St. James's Park. He built a gate-house which stood across what is now the open street, and a gallery connecting the two places, and overlooking a tilt-yard; and on the park-side he built a cockpit; a tennis-court, and alleys for bowling; for although he put women to death, he was fond of manly sports. He was also a patron of the fine arts, and gave an annuity and rooms in the palace to the celebrated Holbein, who is said to have designed the gate, as well as decorated the interior.
The reader is to bear in mind that the street in front of the modern Banqueting-House was always open, as it is now, from Charing Cross to King Street, narrowing opposite to the south end of the Banqueting-House, at which point the gate looked up it towards the Cross. Just opposite the 193 Banqueting-House on the site of the present Horse-Guards, was the Tilt-Yard. The whole mass of houses and gardens on the river side comprised the royal residence. Down this open street, then, just as people walk now, we may picture to ourselves Henry coming with his regal pomp, and Wolsey with his priestly; Sir Thomas More strolling thoughtfully, perhaps talking with quiet-faced Erasmus; Holbein, looking about him with an artist's eyes; Surrey coming gallantly in his cloak and feather, as Holbein has painted him; and a succession of Henry's wives, with their flitting groups on horseback or under canopy; — handsome, stately Catherine of Arragon; laughing Anne Boleyn; quiet Jane Seymour; gross-bodied but sensible Anne of Cleves; demure Catherine Howard, who played such pranks before marriage; and disputatious yet buxom Catherine Parr, who survived one tyrant to become the broken-hearted wife of a smaller one. Down this road, also came gallant companies of knights and squires, to the tilting-yard; but of them we shall have more to say in the time of Elizabeth.
We see little of Edward the Sixth, and less of Lady Jane Grey and Queen Mary, in connection with Whitehall. Edward once held the Parliament there, on account of his sickly condition; and he used to hear Latimer preach in the Privy Garden (still so called), where a pulpit was erected for him on purpose. As there are gardens there still to the houses erected on the spot, one may stand by the rails, and fancy we hear the voice of the rustical but eloquent and honest prelate, rising through the streets.
It was under Elizabeth that Whitehall shone out in all its 194 romantic splendour. It was no longer the splendour of Wolsey alone, nor of Henry alone, or with a great name by his side now and then; but of a Queen, surrounded and worshipped through a long reign by a galaxy of the brightest minds and most chivalrous persons ever assembled in English history.
Here she comes, turning the corner from the Strand, under a canopy of state, leaving the noisier, huzzaing multitude behind the barriers that mark the precincts of the palace, and bending her eyes hither and thither, in acknowledgment of the kneeling obeisances of the courtiers. Beside her are Cecil and Knolles, and Northampton, and Bacon's father; or, later in life, Leicester, and Burleigh, and Sir Philip Sydney, and Greville, and Sir Francis Drake, (and Spenser is looking on); or, later still, Essex and Raleigh, and Bacon himself, and Southampton, Shakespeare's friend, with Shakespeare among the spectators. We shall see her, by and by, at that period, as brought to life to us in the description of Hentzner the traveller. At present (as we have her at this moment in our eye), she is younger, of a large and tall, but well-made figure, with fine eyes, and finer hands, which she is fond of displaying. We are too apt to think of Elizabeth as thin and elderly, and patched up; but for a good period of her life she was plump and personable, warranting the history of the robust pomps of the Lord Admiral, Seymour; and till her latter days (and even then, as far as her powers went), we are always to fancy her at once spirited and stately of carriage, impulsive (except on occasions of ordinary ceremony), and ready to 195 manifest her emotions in look and voice, whether as woman or Queen; in a word, a sort of Henry the Eighth corrected by a female nature and a better understanding — or perhaps an Anne Boleyn, enlarged, and made less feminine by the father's grossness. The Protestants have represented her as too staid, and the Catholics as too violent and sensual. According to the latter, Whitehall was a mere sink of iniquity. It was not likely to be so, for many reasons; but neither, on the other hand, do we take it to have been anything like the pattern of self-denial which some fond writers have supposed. Where there is power, and leisure, and luxury, though of the most legitimate kind, and refinement, though of the most intellectual, self-denial on the side of enjoyment is not apt to be the reigning philosophy; nor would it reasonably be looked for in any court, at all living in wealth and splendour.
Imagine the sensations of Elizabeth, when she first set down in the palace at Whitehall, after escaping the perils of imputed illegitimacy, of confinement for party's sake and for religion's, and all the other terrors of her father's reign and of Mary's, danger of death itself not excepted. She was a young Queen of twenty-five years of age, healthy, sprightly, good-looking, with plenty of will, power, and imagination; and the gallantest spirits of the age at her feet.
The Court of James the First was a great falling off from that of Elizabeth, in point of decency. It was Sir Toby keeping house after the death of Olivia; or a fox-hunting squire succeeding to the estate of some courtly dame and mingling low life with high.
196
We have seen court mummeries in the time of Henry the Eighth and pageants in that of Elizabeth. In the time of James, the masquings of the one, and the gorgeous shows of the other, combined to produce the Masque, in its latest and best acceptation; that is, a dramatic exhibition of some brief fable or allegory, uniting the most fanciful poetry and scenery, and generally heightened with a contrast of humour, or an anti-masque. Ben Jonson was their great poetical master in the court of James and Inigo Jones claimed to be their no less masterly and important setter-forth in scene and show. The poet and artist had a quarrel upon this issue, and Inigo's memory suffers from divers biting libels in the works of his adversary. The noble Banqueting-House remains to show that the architect might have had some right to dispute pretensions, even with the author of the Alchemist and the Sad Shepherd; for it is a piece of the very music of his art (if we may so speak) — the harmony of proportion. Within these walls, as we now see them, rose, "like a steam of rich distilled perfumes," the elegant lines of Ben Jonson, breathing court flowers, — the clouds and painted columns of Jones — and the fair faces, gorgeous dresses, and dances, of the beauties that dazzled the young eyesight of the Miltons and Wallers. Ben's burly body would then break out, as it were, now and then not a little coarse; and the sovereign and the poet most probably concluded the night in the same manner, though not at the same table in filling their skins with wine.
197
The Court of Charles I. was decorum and virtue itself in comparison with that of James. Drunkenness disappeared; there were no scandalous favourites; Buckingham alone retained his ascendency as the friend and assistant; and the king manifested his notions of the royal dignity by a stately reserve. Little remained externally of the old Court but its splendour; and to this a new lustre was given by a taste for painting and the patronage of Rubens and Vandyke. Charles was a great collector of pictures. He was still fonder of poetry than his father, retained Ben Jonson as his laureate, encouraged Sandys, and May, and Carew, and was a fond reader of Spenser and Shakespeare. It was, upon the whole a grave and graceful court, not without an undercurrent of intrigue.
It seems ridiculous to talk of the court of Oliver Cromwell, who had so many severe matters to attend to in order to keep himself on his throne; but he had a court, nevertheless; and however jealously it was watched by the most influential of his adherents, it grew more courtly as his protectorate advanced.
But how shall we speak of the court of Charles II.? of that unblushing seminary for the misdirection of young ladies, which, occupying the ground now inhabited by all which is proper, rendered the mass of buildings by the water's side, from Charing Cross to the Parliament, one vast — what are we to call it? —
"Chi mi darà le voci e le parole
Convenienti a sì nobil sogetto?"
198
Let Mr. Pepys explain. Let Clarendon explain. Let all the world explain, who equally reprobate the place and its master, and yet somehow are so willing to hear it reprobated, that they read endless accounts of it, old and new, from the not very bashful exposé of the Count of Grammont, down to the blushing deprecations of Mrs. Jameson.
The Court of James II. is hardly worth mention. It lasted less than four years, and was as dull as himself. The most remarkable circumstance attending it was the sight of friars and confessors, and the brief restoration of Popery. Waller, too, was once seen there; the fourth court of his visiting. There was a poetess also, who appears to have been attached by regard as well as office to the Court of James — Anne Kingswill, better known by her subsequent title of Countess of Winchelsea. The attachment was most probably one of feeling only and good nature, for she had no bigotry of any sort. Dryden, furthermore, was laureate to King James; and in a fit of politic, perhaps real, regret, turned round upon the late court in his famous comparison of it with its predecessor.
James fled from England in December, 1688, and the history of Whitehall terminates with its conflagration ten years afterward.
Elf.Ed. Notes
* For an example of injustice, see what happened to Earl Hubert in the chapter on The Right of Sanctuary, by Andrews, with some more details here in the account of Devizes Castle, by John Timbs — both pages are on this site.
****************